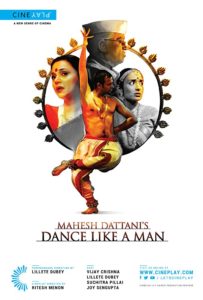 WATCH THE TRAILER HERE
First, the Recap:
Resentment. Covetousness. Bitterness. Powerful, destructive words that carry the weight of all the consequences harboring them brings. Yet, even despite what should be an evident realization of their negative impact upon us, how often do we allow them to dictate, dominate our actions when situations arise that cause them to be birthed? For one older couple, Jairaj and Ratna Parekh (Vijay Crishna and Lillete Dubey), these emotions are becoming all too real. Former Bharat Natyam dancers now in their post-career years, the rigid duo now face a new challenge–the potential breakthrough in dancing fame for their daughter Lata (Suchitra Pillai). Their love for Lata notwithstanding, they both entertain much less positive notions towards her burgeoning success.
Stuck in the middle of this ever-building hotbed of tension is Lata's hapless fiancé Viswas (Joy Sengupta) who aims to try and endear himself to Lata's parents no matter the cost while still having his own ideas about the future. Conversations between Viswas and Jairaj spark a trip to the past where it is revealed that much darker secrets reside between the familial generations, including conflicts a young Jairaj (Sengupta) and his father Amritlal (Crishna) occurred while a devastating incident ultimately shapes his relationship with Ratna (Pillai). As events unfold in both flashback and the present, the cascading effect it all has on everyone involved becomes vividly apparent, painting a sobering picture about secrets, envy, and the prices paid for them both.
Next, my Mind:
The adaptation of the stage play written by noted playwright Mahesh Dattani, directed for stage by Lillete Dubey, and directed here for screen by Ritesh Menon, this filmed version makes its DFW SAFF 2018 debut in high style, delivering a dramatically formidable, darkly comedic, and deeply engaging effort which deftly explores the bonds of family and the ramifications of jealousy within the context of its characters, past and present, young and old. As a viewer, this critic was impressed with the overall visual execution, as it so expertly captures the significant nuances and sometimes intentionally over-the-top elocutions and physical actions associated with a live stage performance while likewise allowing a much richer, fuller immersion into the play's narrative via having the benefit of multiple camera angles, lighting, etc that bring the set pieces to life in a more impactful way without losing that "stage sense". It all reminded me of such big budget film adaptations of musicals like 2004's "Phantom of the Opera" or 2012's "Les Miserables", just on a much smaller but no less effective scale. Add in the music score here, it is the total package.
Where does one start when it comes to the first-rate performances turned in by this wonderfully talented cast, especially due to the fact that, which the exception of Dubey, everyone is playing multiple roles. Crishna exudes a commanding presence and veteran stage acting expertise in his roles as both the Older Jairaj and as his father Amritlal. We see a picture of two men driven so adamantly by tradition and the pressures of societal status while also striving to maintain the dignity and harmony of their families, but then encountering unanticipated obstacles from within that family structure that threaten their notions of how everything should be, finally causing rifts in each relationship present. It's both jarring and mildly comical, and Crishna simply embodies these character dynamics with fantastic grace.
Likewise, Dubey radiates both such an elegant poise and deliciously vindictive demeanor in her portrayal of the Older Ratna, a woman of highfalutin attitude and former glory, her shameless scheming to undermine her own daughter's impending stardom is heartbreaking and, as mentioned above, strangely funny despite the seriousness of events. Yet, when that stardom occurs, her additional aims to take full credit for it backfires, and the reality of what she has become, perhaps, sinks in to complete measure. It's so beautifully portrayed throughout by Dubey, and adds that unique element of tension to the proceedings.
Then we have the finesse of Pillai as the young Lata and the young Ratna, both strong-willed women whose dreams are their own and are impassioned to follow them to the fullest extent. Seeing Lata's overt exuberance to achieve her goals of becoming a noted dancer is heartwarming and real, which is then reflected in her mother's similar inclinations in her youth, much less also supporting the young Jairaj, whose father disapproves of his pursuit of dance as a man. Watching, however, as we see the pining for former glory take over her mother even as Lata sees her own star rising, its a dichotomy that's fun to view, all thanks to Pillai's noteworthy performances in each role.
Finally, there is Sengupta, who is an absolute stich in his dual roles as the young Viswas and the young Jairaj, though the two are really polar opposites in almost every respect. Viswas is an affable but bumbling man whose desire to please is almost overwhelming to the level of annoyance, especially to Lata's parents initially, though he is also unaware of the craziness he's about to be involved in.  As the young Jairaj, we at minimum see a confident, ambitious man ensnared in the conflict with his father over dancing and how it shaped him, both negatively and positively, as his life progressed. Young Jairaj maintained his goals, but at a high price, while Viswas is simply a prototypical young man looking for a good life, but perhaps indicates his own hidden agendas. Both characters are really exaggerated, yet it fits here completely, and Sengupta plays each with balance and control.
In total, "Mahesh Dattani's Dance Like A Man" is a delightful, artistic, and sublime example of both film and stage, offering a dramatic narrative that will capture and draw you into its entertaining web of lies, secrets, jealousy, and the rigors of family interactions. Will you laugh or cry? Well, watch and see.
Mention must be made to the website us.hotstar.com, the new effort by parent site Hotstar.com, to bring Indian entertainment to our country, which I truly feel is an excellent idea so that we here in the West can open ourselves up to something fresh and different.  You can try out this subscription service free for 30 days so you can watch this CinePlay in its entirety via Hotstar Originals. Check it out!
As always, this is all for your consideration and comment.  Until next time, thank you for reading!