Over time, I have enjoyed many of the sports-themed films that have come down the Hollywood pipe.  Many of them are based on true stories, which I am a sucker for, because even IF I already know the outcome, seeing it all visualized brings it to life and really drives home the emotion and poignancy of the individuals involved.  Then there are also those that still deal with SOME real life elements while building a fictional story around it, and such is the case with the newly released "Draft Day"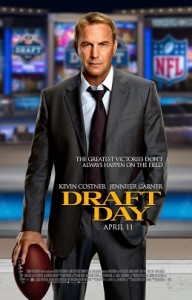 Directed by Ivan Reitman ("Stripes", "Ghostbusters", "Twins", "Six Days Seven Nights"), "Draft Day" follows the fictional story of Sonny Weaver Jr. (Kevin Costner), the general manager of the Cleveland Browns, who is placed in the not-so-enviable position of making the right choices for his team on the day of the 2014 NFL Draft. Accurately indicating that the team is in desperate need of a solid pick to fire up the franchise and bring a championship to Cleveland, Sonny is prompted by his boss, owner Anthony Molina (Frank Langella), to "make a splash" at the Draft, with the implied threat that Sonny's job is on the line.  On top of this pressure is the recent loss of his father, a Cleveland Browns coaching legend who has passed away.  With the seventh pick their current spot, Sonny makes a call to another team's GM, Tom Michaels (Patrick St. Esprit), and strikes a deal that would ultimately land Cleveland the biggest player in the Draft, top flight QB Bo Callahan (Josh Pence), but all the while having already had ideas of the other players he desires in Vontae Mack (Chadwick Boseman) and Ray Jennings (Arian Foster).  To add to THAT drama, Sonny is also battling to keep a romance with an executive within the organization, Ali (Jennifer Garner), a secret and hold at bay the Browns' new head coach, Coach Penn (Denis Leary) who is second-guessing Sonny's decision-making at almost every turn, while ALSO dealing with the Browns' current QB Brian Drew (Tom Welling) who has NO desire to see his job in jeopardy.  Once the deal becomes public thanks to a Tweet, even Sonny's mother Barb (Ellen Burstyn) ends up involved.  Throw in a new intern at the Browns' facility, Rick (Griffin Newman) for some comedy relief and everything takes off from there.  Sonny has to truly weigh options for what is best for the team, all while trying to balance the rest of the voices around him, and ultimately weighing the character of the players in the picture.  By the time the Draft actually begins, Sonny has to make multiple moves that shake up everything in the Draft.  And then it's only a matter of whether these choices ARE the best for the future of the Browns' franchise.
So, as usual, certain levels of detail I really do not want to divulge should you see the film, or if you already have, you know what I am talking about.  As a whole, the film was entertaining to watch.  Costner is almost always solid for me, so seeing him in this role was just fine.  I felt he brought a sense OF realism to the story, especially given that in REAL LIFE, the Browns could use this kind of story!  Now granted, this role wasn't a STRETCH for Costner in ANY way, as Sonny is really a fairly straight-forward guy who is just looking to make the best deal he can and come out on top.  The sense of pressure on him is somewhat understated throughout a lot of the film, as Costner also gives Sonny that confidence in the choices he makes (even if he IS struggling with those choices) which seem legit and genuine.  I will say there were random moments that I DID feel the film was slow, and I suppose this could be expected given this isn't an Oscar-level drama with RIVETING performances that REALLY stick out.  The supporting cast does fine with what they have.  Garner's Ali is also played with this sense of realism, with her vast knowledge of football often making her Sonny's sounding board as well as the voice of reason in the decisions he's making, all the while ALSO wanting the relationship with him she desires.  Leary's Coach Penn is played with the same general bravado that Leary tends to do with his characters, but not quite as over-the-top, since the role doesn't call for it.  Newman's intern, Rick, is a welcome dose of laughs during certain spots where the levity was nice to have.  Again, the film did feel slow at times, even though integral points were occurring.  There are also plenty of cameos by the sportscasters from ESPN, former NFL players, and other related individuals.  The film did not carry close to same pathos, pace, or engaging storytelling as films like "Gridiron Gang", "Remember The Titans", "Invincible", or  "We Are Marshall", but it stood ok on its own merits.  I mean, is it one I would rush out to see again, I feel no.  Will it be one I would end up owning….probably not.  It was just one of those movies that WAS entertaining, but just not enough to say it was "GREAT!" or "AMAZING" like those others I just listed.  And even among the other sports-themed films that have been around, this one won't ultimately rank TOO high when there truly are better overall ones to choose from.
But, as always, this is all for YOUR consideration and comment.  Until next time, thank you for reading!