And a good evening to everyone, fans, friends, readers from all over the country, and perhaps the world?  Well….that is the GOAL anyway!  Gotta dream big, right?  Today has been a very productive day for me film review wise, as I am about to provide the third one composed in less than a 24-hour period.  This is made possible by the fact that I have managed to fit into my schedule 3 films IN the last 24-26 hrs.  And this IS a good thing, as it tells me my passion for this medium is NOT going anywhere anytime soon.  This stated, we move on to the aforementioned third review of Saturday August 30th….I give you one of last week's new offerings, "If I Stay".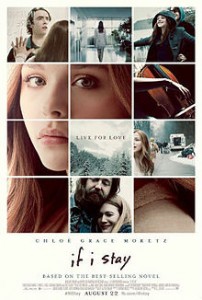 This is actually the major film directorial debut for R.J. Cutler, whose main focus has been in a Producer's role via multiple TV shows and documentaries, including the current-running prime time drama "Nashville". This story, based on the novel by author Gayle Forman, initially introduces us to a new, unfolding day in the life of Portland, Oregon high school junior/teenage cello prodigy Mia Hall (Chloe Grace Moretz), whom is the product of a musically driven father, Denny (Joshua Leonard) whose band, Bad Bruises, was once a big thing locally and it being at a concert of theirs where he met his wife and Mia's mother, Kat (Mireille Enos).  Having put that life behind them, they also had Mia's little brother Teddy (Jakob Davies), whose affinity for classic rock made well before his time is a tad scary, and yet quite funny, thanks to his father.  As this particular day is starting, it is announced on the radio that a snow storm has cancelled school, and so with the two kids home, Denny not having to go to his teaching job, and Kat calling in "sick" to her travel agency job, the family decides to take a trip to Mia's grandparent's home.  During this car ride, we continue to learn more about how Mia's love of the cello began very young, and after her parents hire someone to teach her, she becomes enamored with the instrument, much to the "delight" of her parents initially!  Flash forward to current time again and we also see that her playing attracted the attention of a boy at school, Adam (Jamie Blackley) a member of a local band Willamette Stone, who immediately notices Mia's playing and Mia herself, much to the rather envious delight of her fellow classmate and best friend Kim (Liana Liberato).  As the car ride progresses, and Mia continues to reflect on these past life experiences, events take a sudden and tragic turn, and Mia finds herself in a potent out-of-body viewpoint of not only herself, but of everyone around her, seeing how the whole situation is affecting her friends and family.  It is from this point that the story then flashes back and forth between the present and the past year's timeframe, watching as Mia's newfound love and relationship with Adam has gone through all of the growing pains one would expect with two young teens whose lives are about to take very different directions…hers being a possible education at a prominent music school, while his is potential fame as a rock star with Willamette Stone.  The ongoing pressures take their toll on the couple, and this also is seen via flashback.  When in the present, the story also has its share of ongoing loss, and Mia starts to wonder if fighting to break out of the state she is in is actually worth living a totally different life than she ever imagined.  But it is in this time of decision that Mia has to truly take a look at what (and who) she has to grasp onto, while honestly having to determine if that sense of family and real love IS the choice to make, or if there is the freedom and release from those same people to simply let go.  And I must say, for me, then ending was quite good.  As revealing more specifics will cause us to take the trip to "spoiler land", where as you ALL know by now, I refuse to go, I leave you here story wise.
Now, I have to admit, this was NOT a film on my list to see originally, as I will ALSO admit, it simply looked like typical, gooey teen fluff that wasn't going to really have any TRUE punch to it, as often the trailers for these films tend to purposely build up this sense of supposed depth and sweeping scope of romance and life-changing choices that I just don't believe the movie will ACTUALLY deliver on ANY of that.  Plus, let's point out that being an adult male, I am NOT exactly in the overall demographic this film is aimed for anyway (and it was pointed out to me later, post-viewing, that I believe I WAS the ONLY guy in the theater.  lol).  HOWEVER…..the film ended up actually being MUCH better than I expected it would be.  And I have to give most of THAT credit to lead actress Chloe Grace Moretz, as she really brought a depth to Mia that went beyond typical teen characters.  Her sense of emotion in the film, the WAY she drew you into Mia's character was far beyond what I thought would occur.  You get such a true feeling of everything she is going through, from the initial awkwardness of this first love with Adam, to the growing purpose she feels to accomplish her own goals but wanting to support his as well and make it work for BOTH of them to be together, to the scared, confused, broken spirit she is while in her out-of-body state and watching things going on around her that she cannot control, yet still being reminded of some things she CAN affect. It all gets neatly packaged into the 1hr 46min runtime.  Seriously, it was so nice to see Moretz show that her career will continue to grow and mature, as she already has two more projects coming out this year, "The Equalizer" with Denzel Washington and "Laggies" with Kiera Knightley.  Now, there is credit to also be given to the supporting cast.  Blackley's Adam is convincing enough as a teen boy torn between the lure of fame as a musician while also wanting ideally to be with the girl he loves, even if he has come to realize this through hard circumstances.  There is a particularly potent moment with Mia's grandfather, played by veteran actor Stacy Keach, that really tugs the heartstrings, along with MANY other moments as well.  The film is visually simple, which lends itself well to a story like this, because distraction is NOT what you are wanting here….it's the characters and their stories you desire to hold attention on.  Utilization of some very appropriate modern music also assists in enhancing several scenes emotionally, which IS what a good soundtrack should do in the first place.  And this is the type of film that allows you TO get swept away in the fantasy of it all, if I may state it that way.  Again, as a guy, I freely admit I DO like films of this general nature…they just need to be WELL DONE, and that is not always the case.  "If I Stay", though, DID do it right and I teared up multiple times along with the teen girls and other adult I saw it with, and THAT is FINE, as I will NEVER apologize for having emotions and a heart!  What effects you, effects you.  Enjoy that and perhaps open yourself up to at least take a CHANCE on a movie like this, cause you MIGHT just be surprised at what you find.
As always, this is all for YOUR consideration and comment.  Until next time, thank you for reading!