Good morning everyone!  As the first day to the last week of 2014 begins, doing as I promised and taking the free time to wrap up the final reviews of the year!  So, wasting no further time, I give you the third review from this past weekend for movie adaption of the stage musical "Into The Woods".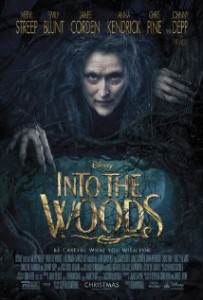 SEE THE TRAILER HERE
Based on the book and musical by James Lapine and brought to us by director Rob Marshall, who also gave us "Chicago", "Memoirs of A Geisha", and "Pirates of the Caribbean: On Stranger Tides",  the story takes us on an adventure in a fairy tale world where we are initially introduced to three familiar characters/stories….one about the life of scullery maid Cinderella (Anna Kendrick) and her cruel Stepmother (Christine Baranski) and two stepsisters Florinda & Lucinda (Tammy Blanchard & Lucy Punch), another about a young boy Jack (Daniel Huttlestone) and his mother (Tracey Ullman), and a Baker (James Corden) and his Wife (Emily Blunt), the latter of which has had his household cursed by a Witch (Meryl Streep) due to his father's (Simon Russell Beale) past misdeeds against her. Each story has it's beginnings we are familiar with…Cinderella's desire to go to the Ball, Jack's having to take his beloved white cow to market to sell and coming into possession of the infamous magic beans, and the Baker's desire for a family, which can only be started if he gathers 4 magical items in 3 night's time in order for the Witch to break the curse.  Also a part of this overall scope of events are other familiar characters including a decidedly feistier Little Red Riding Hood (Lilla Crawford) going to Grandmother's (Annette Crosbie) house but still encountering her long-time nemesis the Wolf (Johnny Depp), the long-suffering Rapunzel (Mackenzie Mauzy) longing to be with her Prince (Billy Magnussen), and Cinderella's Prince (Chris Pine) whom is not only befuddled by her constantly running away from him at the Ball, but who turns out to be a not-so-charming cad.  But, as all of them have their specific tasks, it all converges in the woods surrounding their town, as while each is driven there by their own needs and goals, it ultimately centers on the Baker and his Wife trying to obtain the items THEY require to break the Witch's curse.  As one would imagine, things start to spiral out of control, as circumstances cause all of these characters' lives to become intertwined, and not always to any of their benefits.  Topping it all off is one mistake made by multiple people that puts the entire land in grave danger, even as there are conflicts between everyone that end up costing some dearly.  And as events come to their finale, those remaining learn to put aside their grievances and focus on the bigger picture that will save the land and cause everyone to end up learning something about each other and themselves.  As usual, any more details would be spoilers and shall therefore NOT be shared.
So…anyone who is already intimately familiar with Lapine's book or stage musical version of this story will know one thing right off the bat….this is NOT a children's fairy tale!  I will have to admit I have never personally been an overall fan of "Into The Woods", as many of the themes involved, moreso WHEN they are addressed BY utilizing classic childhood characters like this, just becomes flat out creepy to me.  Death, infidelity, lying, and self-centeredness are all present here, and while these are not UNCOMMON attributes of many movies as a whole, again, it's the themes associated with THESE characters that makes it a little unpalatable for me anyway.  And even with Disney toning DOWN the execution of these elements to make a "PG" film, it doesn't take away from the fact it's all still present.  Even when certain things work out in the end, I was still left with that uneasy sense of "yeah…that was STILL a creepy tale!".  Now, that said, PERFORMANCES in the film are very, very solid, as the entire cast did their OWN singing!  And each actor/actress DOES bring their respective characters to life solidly as well, infusing each with a true sense of purpose based on their part in the grand scheme of things.  Kendrick, Pine, Corden, and Blunt in particular stood out for me singing-wise.  Johnny Depp simply FIT as the Wolf.  And Meryl Streep as the Witch was undeniably entertaining, most assuredly bringing her veteran acting chops to bear in both a menacing AND jovial way with the character.  But even amongst the humorous moments, there is also the harshness of consequences brought on by choices that were not too well thought out, and the entire STORY itself is founded on one such moment of ill-fated decision.  And hence the dark undertone of the story still comes forth, as not everything ends "happily ever after" by any means.  Visually, as expected, the movie does soar as well, utilizing the Woods-set premise to maximum effect, while also bringing to life the magical elements of the story.  The musical score is also solid, which aids in the actor's emotional connection to the mood and tone of the songs being vocalized by them throughout.  To sum up, visually excellent and performed very well by the entire cast, I still have to stand on my original overall reservations about the themes of the story.  It probably will not be a movie I will see again.  BUT….
As always, this is all for YOUR consideration and comment.  Until next time, thank you for reading!