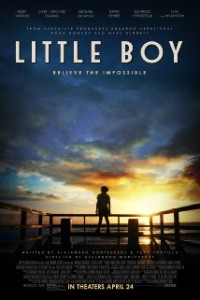 WATCH THE TRAILER HERE
From director Alejandro Monteverde and producers Roma Downey and Mark Burnett comes this charming and heartfelt tale set circa the 1940's in a tiny, Northern California town. We enter the world of 8-year old Pepper Flynt Busbee (Jakob Salvati), whose life is anything but simple given his below average stature which has earned him the nickname "Little Boy".  Despite having to face the constant bullying from other kids, one facet of his life he does find outright joy in is the relationship he shares with his father, James (Michael Rapaport), and the imaginary adventures they travel through, playing the heroes, and always focusing on the idea that if you strongly believe you can achieve something, you will.  But Pepper's joy comes crashing down when his father is called upon to serve in WWII.  Feeling lost and worried about whether his father will return, Pepper starts on a journey of discovery brought on by a favorite comic book hero, magician Ben Eagle (Ben Chaplin) and the local Reverend, Oliver (Tom Wilkinson), the latter of whom gives him a list of items to accomplish based on acts of service from the Bible.  What occurs is an unexpectedly powerful coming to faith and even stronger hope for the war's end and his father's return that ultimately transcends his own endeavors and impacts his family and town in ways none could have seen and results no one could have dreamed.
While it is true this effort doesn't completely measure up in overall potency (or at least not in the same ways) that Downey & Burnett's 2014 film, "Heaven Is For Real" did, this should not take away from the message being presented here.  Choosing a decidedly allegorical approach to lessons found in the Bible's Old and New Testaments, such as David & Goliath and having faith the size of a mustard seed, in conjunction with the use of heavier subject matters like racism, hatred, war, and even a little magic, the film ultimately does provide a solid, faith-based theme which resonates throughout the tale, promoting strong belief, conviction, hope, and truth as means to see God's hand move in a situation. Salvati is truly incredible in playing Pepper, coming across exactly as one might expect an 8-year old to in handling the various trials and victories he experiences, as well as showing the level of understanding he gleans from seeking out, even if reluctantly at first, the faith and belief he desires to obtain. A solid supporting cast including Kevin James, Emily Watson, Cary-Hiroyuki Tagawa, and Ted Levine among others is present here to good effect.  But this really is about Pepper's road less traveled and it illustrates another New Testament concept advising to have the faith of a child. Perhaps, despite the many criticisms this reviewer has seen in regard to the movie and its content, we can revisit the truths portrayed in "Little Boy" and come back to that innocent faith in God ourselves.
As always, this is all for your consideration and comment.  Until next time, thank you for reading!