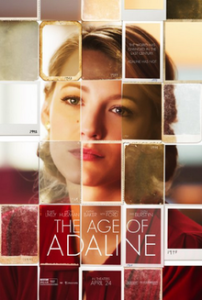 WATCH THE TRAILER HERE
Brought to us by director Lee Toland Krieger, helming his 4th major motion picture, comes the fantastical story of Adaline Bowman (Blake Lively), a vibrant young woman facing a heartbreaking loss whose life takes an unexpected turn when driving home one night, as a convergence of elements brings about an unexplainable occurrence that causes her natural aging process to cease at 29 years old. Now passing down through the decades following that fateful night, Adaline finds herself on the run, moving from place to place, changing identities constantly to hide the true nature of her altered existence, avoiding falling in love, all while still staying in touch with her daughter, Flemming (Izabel Pearce-age 5, Cate Richardson-age 20, Ellen Burstyn-adult). Everything changes, however, when she meets the charismatic Ellis Jones (Michiel Huisman) at a New Year's Eve party, initially warding off his attempts to woo her, until, with his persistence, finally giving in. But, with the entire notion and methodology in keeping her secret now interrupted and in jeopardy, the situation only gets more complicated when she meets Ellis' parents, including his father William (Harrison Ford), who has a direct tie to Adaline's past. Clinging to the joy of newly forming love but now haunted by a living reminder of what it could mean to be fully invested in a relationship, emotions and uncertainty swirl around them all, and Adaline has to decide whether it is finally time to let go or run away again in order to keep her time-frozen secret undisclosed.
Simple in its overall premise but deeply rich in its execution, the film carries itself with a relaxing ease while still presenting an engaging narrative that draws the viewer into a magical, fairy tale like scenario, but only so far before the willingness to explore the delicate and harsher emotional realities of a life suspended involuntarily in time are brought to bear through Adaline's eyes.  Added with a periodic accompanying narration, the greater picture of Adaline's life as shown through memory flashbacks is potent and at times raw.  Lively elevates this film on several levels, utilizing her character's luminous beauty, calm self assurance, and fierce determination to give depth to the plight Adaline has now taken head on for numerous decades, through joyous and sorrowful seasons.  Huisman is perfectly cast as the down to earth Ellis, whose chance encounter with (and subsequent pursuit of) Adaline sets a series of choices in motion that ultimately drives the rest of the allegory.  Ford, as always, is solid as William, giving a realistic and highly emotional performance as a man being confronted with the impossible.  In addition, an atmospheric soundtrack aids in capturing the various and often poignant nuances of the story.  Films of similar nature have, of course, been done, and comparisons are inevitable.  Yet, this doesn't change the fact that the manner in which "The Age of Adaline" chooses to handle themes of mortality, love, loss and the choice to take a daring step into something new, is timeless.
As always, this is all for your consideration and comment.  Until next time, thank you for reading!