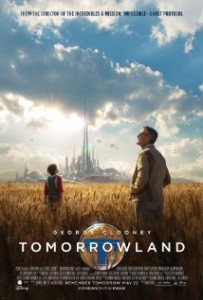 WATCH THE TRAILER HERE
Prolific writer/director Brad Bird ("The Iron Giant", "The Incredibles", "Mission: Impossible-Ghost Protocol") takes the captain's chair for Walt Disney Picture's newest big screen offering, delivering another fantasy-based story the Mouse House is known for.  Beginning playfully in tone, the overall basis of the tale is first narrated by Frank Walker (George Clooney), recounting his early childhood and love for inventing things, and how this got him involved with a young girl, Athena (Raffey Cassidy), who lead him, literally, to another world. The disclosure of events then gets turned over, via Frank being interrupted constantly, to Casey Newton (Britt Robertson), a young, intelligent, optimistic teen girl, whose initial acting out stems from her former NASA engineer father Eddie (Tim McGraw) and anger at what she feels they did to him.  When her actions finally get stopped, a new mystery opens in her life when coming into possession of a small button, that when touched, transports her into a fantastical world only she can seem to see.  First dismissing it as a dream, Casey digs deeper into things, soon becoming keenly and frighteningly aware of the alternate world's reality and those who are trying to prevent the now-adult Frank Walker from causing what they see as a threat based on an invention he created. Tracking Frank down, they embark on a challenging adventure to show the current head of the other-dimensional realm, Nix (Hugh Laurie), that Casey actually holds the key to it and our world's futures.
Though some might dismiss a film like this to "just another cookie-cutter fantasy effort", this reviewer personally doesn't tire much of the genre, especially with the well-established pedigree of Disney behind it.  Granted, it may not be at the same overall level of popularity other recent young-adult based projects like "The Hunger Games" or "The Maze Runner" are, but honestly, it really shouldn't need to in order to have some relevancy.  This story brings a simple concept of alternate dimensions and fantastical places and infuses it with a straight-forward illustration of how so many choices our world makes end up harmful or destructive, whether on small or mass scales.  Therefore, this magical world becomes a place where the best and brightest of this realm are specifically chosen and brought to in order to develop improvements and execute strategies to not see our world be decimated completely.  Yes, this idea has also been explored many, many times over, but this reviewer felt "Tomorrowland" still remained entertainingly engaging, visually enchanting, and another cautionary fiction of what would happen when someone who doesn't care what happens to our world is calling the shots, hence giving us room for the idealists to emerge, even when it could cost something to do what is needed.  The cast is well-chosen, fitting perfectly into their respective roles, and the soaring orchestral soundtrack once again tugs at the emotions. Overall, heroes rise, villains fall, hope is given, and dreamers are set free. Sounds exactly like what this world needs.
As always, this is all for your consideration and comment.  Until next time, thank you for reading!