Greetings and again, I wish everyone a Happy Friday!  As it is one of THE most wonderful days of the week, it is also, again, time for "Friday Spotlight".  This week, I am choosing a diverse actor who I've seen can truly play a diversity of characters, all of whom in their own right, manage to bring out both the charm and resolute bad boy in the person playing them.  With that, I give you……Irish-born Colin Farrell.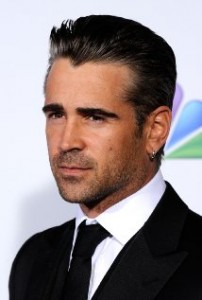 Pretty much establishing himself as Hollywood's newest bad boy, Farrell's initial acting parts were mainly in his native Ireland, in the mid to late-90's, where he starred in several films including 1997's "Drinking Crude" and 1999's "The War Zone", while also doing Irish TV movies and series as well, like "Falling For A Dancer" in 1998 and "Love In The 21st Century", and "Ballykissangel" from 1998-1999.  Of course, none of these are anything I ever saw, not even his debut in the 2000 Joel Schumacher film "Tigerland" where he got his first real recognition and launched his career here in the States.  2001's "American Outlaws" was my first exposure to Farrell, where he played infamous outlaw Jesse James.  For all the various films that have been done about James and his gang in the Old West, I will say this one has always stuck out to me, and mainly because of Farrell's no holds barred approach to playing the charismatic James.  Both smart AND reckless, Farrell's bravado and roguish attitude was on full display for the character and definitely brought fire to the film.  He followed up this film with a BUSY 2002, appearing first in the Bruce Willis-lead war film, "Hart's War", where Farrell played law student turned WWII lieutenant who gets captured and placed in a brutal German internment camp where a murder sets the stage for an escape attempt.  This time, Farrell had the opportunity to show off his straight forward dramatic chops, even as a supporting role next to Willis, and he pulled it off wonderfully.  2002 also brought about Farrell's chance to work with one of Hollywood's greatest directors in Steven Spielberg's sci-fi adventure, "Minority Report", opposite Tom Cruise and another solid supporting cast, in which he played Federal Agent Danny Witwer, who initially pursues Cruise's cop John Anderton as  he tries to prove his innocence of a crime he hasn't even committed yet, but has foreseen he will.  Again, Farrell excelled in being that mix of tough and understanding for Witwer's character, whom we first root against, but ultimately root for.  Next was a reunion with "Tigerland" director Schumacher for "Phone Booth", this time as a foul-mouthed and egotistic New York publicist Stu Shepard who unwittingly picks up a ringing phone in a sidewalk booth, only to then be unable to leave on pain of being shot by an unidentified sniper who decides it's time to expose all the lies and other dirty laundry in Stu's life.  Honestly, it was NOT a favorite of mine at all, as the film's overall tone and execution were clunky to me and frankly it was all a little overdone.
As if 2002 had not been busy enough, 2003 for Farrell was even busier with no less than 5 films out.  First up was the superbly done drama/thriller "The Recruit", playing James Douglas Clayton, a normal bartender obsessed with the unsolved disappearance of his father, who is unexpectedly approached by Agent Walter Burke (the ever awesome Al Pacino) and recruited into the CIA.  And as Clayton's training goes farther and farther, secrets come out, alliances are tested and questioned, and a greater threat is revealed.  This film really impressed me in the fact that Farrell not only held his own against Pacino, but brought that level gravitas to Clayton's persona that really made me BELIEVE he was a newbie CIA agent getting put through the ringer and trying to determine what was and was not the truth.  Then Farrell got to really ham it up a bit, but in a serious role, as he took on the classic Marvel Comics villain Bullseye in "Daredevil" starring Ben Affleck, Jon Favreau, Jennifer Garner, and Michael Clarke Duncan.  Most people I know did NOT like this film, but I was simply thrilled to see the characters come to life, and Farrell was able to keep his natural Irish lilt and emote some serious attitude and dark humor in playing the iconic hitman, who can turn any solid abject into a lethal projectile that NEVER misses its mark. I could just tell Farrell must have relished the chance to take on this role, as he did chew up scenes he was in.  I never saw "Veronica Guerin" or "Intermission", but 2003 did also have "S.W.A.T." where Farrell played James Street, a new Los Angeles S.W.A.T. team member under the command of Lt. Dan (NO "Forrest Gump" jokes, please) "Hondo" Harrelson (Samuel L. Jackson) who end up caught up in a situation with dirty cops, gangs and a drug kingpin who has offered $100 million dollars for anyone to break him out of confinement.  This was just brainless fun, honestly, and still not one of my overall favorite performances by Farrell.  He did fine, but just not the best.  Moving into 2004, Farrell went for the period piece "Alexander", directed by Oliver Stone, in which he played the title character of Alexander the Great.  Now, I heard SO much controversy over this film (not surprising with Stone at the helm) that ultimately I have never seen this, and despite one solid cast and what I am sure was a great performance by Farrell, I doubt I ever will.  I am a fan of this style of film, but after hearing about how they were portraying Alexander, it just wasn't content I wanted to see, even IF it was at all accurate.  However, the NEXT period film that Farrell chose to do was 2005's "The New World" in which he played Capt. John Smith whose famous love affair with Indian Pocahontas during the establishment of the Jamestown settlement is an History class staple.  Farrell gave a raw humanity to Smith for me in this movie, and the lushly directed tale is rife with about every emotional high and low you can take, given the status of the settlers and the Indians who are at first friendly, but turn brutal when an incident occurs, all while showing the deep connection that Smith ends up having with not just Pocahontas, but with her people and culture.
2006 would give us the re-imagining of the CLASSIC 1980's ground-breaking pop culture TV show, "Miami Vice", with Farrell taking on the contemporized version of Sonny Crocket to Jamie Foxx's Ricardo Tubbs in modern day Miami as one undercover op gone bad turns into a mix-up with a major South American drug cartel leader (Luis Tosar) and his right-hand man (John Ortiz), all made more complicated when Sonny falls for the cartel leader's wife, Isabella (Gong Li).  Again, this was a film nobody seemed to like.  I was a HUGE fan of the original show, and the fact that original creator Michael Mann came back to direct this was in itself awesome, as he brought the story INTO modern times and made it fit the tone you would expect this to take place within NOW…. not big hair and pastel colors, but rather dark, brooding night shots, slick suits, fancy cars, dangerous criminals, and two determined partners who will push things to the limit to get the mission done.  I loved Farrell as Sonny, and thought he did the character justice without question.  Farrell took on dark in a different way in 2008's black comedy "In Bruges" co-starring Brendan Gleeson, as two hit men hiding out in Belgium awaiting orders from their ruthless boss Harry (the wonderful Ralph Fiennes) after a job goes wrong.  It becomes a rather twisted tale of friendships betrayed, then renewed, and other craziness…..but I will say it was really well done.  Farrell can play unhinged quite convincingly, and this was no exception. But most certainly NOT a film for everyone….I will leave it at that.  In 2009, I saw Farrell in two completely different types of roles, one playing a lowly (and lonely) Irish fisherman Syracuse in the Irish-made indie "Ondine" an almost fairy-tale story involving a woman pulled in from the water in one of his nets, and his young daughter who believes the woman is a Selkie, a half-human/half-seal who turns fully human on land.  But as realities set in and the truth around the woman is revealed, the story takes a serious turn.  It was great to see Farrell in a smaller film like this, getting to play a regular guy, and as expected, he does it well, even though as a whole, the film kind of disappointed me with the direction it took.  Then Farrell went country in the Jeff Bridges-led film, "Crazy Heart".  EXCELLENT film, and as far as Farrell…..it's HIM going COUNTRY.  Let your imagination run wild.  2010 saw him in the indie film "The Way Back" alongside Ed Harris and Jim Sturgess, playing one of a group of prisoners in a Siberian gulag who hatch a plan to escape it and then attempt to travel BY FOOT over 4000 miles to reach India.  Based on the true account of this effort, Farrell plays a Russian prisoner and gang member whose less than savory demeanor is masterfully played, and is borderline psych0.  But, this toughness brings its own purpose in the men's plight to survive.
Jumping ahead to 2012, Farrell was in yet another remake of a former property, this time from filmdom, as he played the new version of Douglas Quaid/Carl Hauser in Len Wiseman's "Total Recall", which also starred Wiseman's real-life wife Kate Beckinsale as well as Jessica Biel, Bill Nighy, and Bryan Cranston.  Again, as sacrilegious as some people may say this statement is, I actually liked THIS version BETTER than the Schwarzenegger original.  The action was kept on Earth, still in a dark, crumbling society, and Farrell's portrayal of the character seemed a lot more real and feasible to me….more akin to a "Blade Runner" feel, which really worked for me.  Late 2013 gave Farrell the chance to do another period piece, this time playing the father of "Mary Poppins" writer P.L. Travers (amazingly done by Emma Thompson) in the true story based film "Saving Mr. Banks" with Tom Hanks.  It is a powerful look into Travers' past, and Farrell once again digs out the dramatic chops for the role, playing one of those characters you want to like, yet just cannot seem to completely accept in that way.  BUT…now we arrive to early 2014, and one EPIC film (based on an existing novel) that Farrell starred in with Russell Crowe, Jessica Brown Findlay, and Jennifer Connelly, entitled "Winter's Tale".  Again, for ME, this could be my favorite OVERALL role I've seen Farrell take on…as it called upon every possible range of character he's played, and he NAILED it.  As a thief whose attempts to rob a house in New York City's Upper West Side ends up bringing him into contact with a young girl who is dying and thus begins one sweeping fantasy story that transcends time and really packs one BIG emotional punch.  Farrell OWNED this film alongside Crowe and Findlay, and just brought a depth to the Peter Lake character that you were rooting for him the entire time.  Just a masterful movie for me, and it solidified that Farrell is truly a top notch talent in the industry.  Several projects await in the horizon, including "Solace", "Miss Julie", and "The Lobster", so it's evident that Colin is most certainly here to stay.
As always, this is all for YOUR consideration and comment.  Until next time, thank you for reading!