Happy Friday everyone!  Well, this could be one of the last few "Friday" spotlights as the wonderful management at my regular job decided that my 4 day/10-hour shift schedule did not fit their new "schedule realigning"….and therefore "POOF!!"..there goes my 3-day weekends every week.  Oy.  See why I am trying to make this One Film Fan into something??  So, this weekly entry MAY ultimately become "Saturday Spotlight".  However, we shall see how it goes.  Anyway, enough of that!  This week, going with a very accomplished actor who recently starred in a debate and controversy-starting film about the world getting wiped clean via a LOT of water!  And so I give you….Russell Crowe.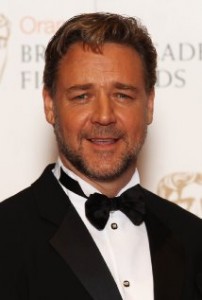 Having just turned "the big 5-0" on April 7th of this year, Crowe has most certainly had plenty of that first half-century to make an impact on the film and Hollywood industry.  He actually began acting in his homeland of Australia as early as 1972 and 1977, with one-episode, UNCREDITED, appearances on Australian TV shows "Spyforce" & "The Young Doctors".  It wasn't until 10 years later that he got a much bigger TV break with the 1987 series, "Neighbours".  With continuing focus on TV, and then film, in Australia from 1988 through 1991, it wasn't until 1992's Aussie film "Romper Stomper" that initially put Crowe on the film radar in the Australian region and surrounding countries. With several other films giving him more momentum in 1993, including "Hammers Over The Anvil", "Love In Limbo", "The Silver Brumby", and "For The Moment", it was then 1994's "The Sum of Us" that was filming when Crowe was approached by Sharon Stone for her Western tale, "The Quick and the Dead", which itself was delayed in being produced in order to accommodate Stone's desire to have Crowe play fellow gunslinger, Cort.  This 1995 movie placed Crowe in American film audiences minds, and he followed up with "Virtuosity" also in 1995, where he played virtual serial killer SID 6.7, and was unlike ANY role Crowe had attempted to date, and to which he most certainly brought a unique approach to this character.  Sadly, despite that fact, I didn't actually like the film overall.  My first real "wow!" moment with Crowe was in 1997's "L.A. Confidential", a superb piece of noir and starring one whopper of a cast including Kevin Spacey, Kim Basinger, fellow Aussie Guy Pearce, and excellent character actors David Strathairn, Ron Rifkin, and James Cromwell.  Crowe held his own with these well-established actors and just played tough L.A. cop Wendell "Bud" White with all the raging intensity the character warranted.  While Crowe then did the 1999 film "Mystery, Alaska", which again, was NOT one I personally went for, his next BIG splash came with the OTHER 1999 movie, "The Insider", directed by Michael Mann, where he brilliantly played Jeffrey Wigand, a whistle-blowing researcher from one of the Big Tobacco companies that finds his life threatened and falling apart because of his choice to air his findings on the popular news show "60 Minutes".  And Crowe just NAILED this character (and got his first Best Actor Oscar nomination), even gaining the extra weight necessary to play Wigand.  And then, add to having to once again prove his chops against the likes of Al Pacino, Christopher Plummer, and a SLEW of awesome character actors, among them Rip Torn, Phillip Baker Hall, Colm Feore, Bruce McGill, and Michael Gambon. AND….Crowe did this with flying colors.  THIS was, to me, the REAL beginning to what would be a SUPERB run of films for the Aussie import.
2000 brought his Best Actor Oscar WINNING performance as Maximus, a Roman general who's out of vengeance, in the EPIC Ridley Scott period film "Gladiator".  This was Crowe on a WHOLE new level for me, as he simply brought out EVERY emotional gun to play this character, and his performance in it made YOU as a viewer experience EVERY emotion he emoted.  I could go on for a LONG time about this one, so moving on…..Crowe followed this massive success with a more mildly successful "Proof of Life" in which he played hostage negotiator Terry Thorne who is hired by Meg Ryan's Alice Bowman to help bring back her husband after he is kidnapped in South America, but falling for her along the journey.  It was an ok film, but coming off of an Oscar performance like "Gladiator", it was disappointing.  But, Crowe didn't wait long to rebound, coming back with the 2001 film, "A Beautiful Mind", taking on the role of John Nash, a extremely intelligent but wholly schizophrenic mathematician who ends up in over his head with the government and even his own wife, though ultimately finding a way to conquer his disability to an extent that did end up leading him to a Nobel Prize.  This role also got Crowe another Best Actor Oscar nomination.  And he also found himself with another amazing supporting cast for this story, including Jennifer Connelly, Ed Harris, Christopher Plummer, Paul Bettany, and Josh Lucas.  2003 brought along "Master & Commander: The Far Side of the World", playing Capt. Jack Aubrey, and based on a book series by Patrick O'Brian.  Set during the Napoleonic Wars, Aubrey and his ship, the H.M.S. Surprise are sent to track down and destroy a French privateer Acheron.  I actually loved the film, but many thought, frankly, that it was boring.  I think those expecting some kind of non-stop action flick were the ones disappointed, but I found the narrative and pacing engaging and of course Crowe brought that realistic sense of authority in Aubrey's character. Jumping to 2005, Crowe took on another real-life person in "Cinderella Man", where he played Depression-era boxer James Braddock, someone everyone thought was washed up, but who then ultimately became an inspiration in tough times for the country, especially in facing reigning boxing champion Max Baer.  Again, Crowe went method for the role, shedding weight this time to be in correct condition to play Braddock and it was yet another opportunity for him to emote on SO many levels. Simply amazing.  2006-2009 gave us a run of movies that, again, Crowe did fine in and was often the more solid element IN the films, but yet they just didn't CAPTURE me like some of Crowe's previous works.  Films included a return to the Western genre in "3:10 To Yuma", the crime drama "American Gangster", and modern spy thriller "Body of Lies". One that DID stand out, though, during this period was 2009's "State of Play" in which Crowe took on the role of a D.C. journalist Cal McAffrey, who gets in over his head when a close friend (who also happens to be a U.S. Congressman), and was played by Ben Affleck, is involved in the murder of a congressional aide in his employ.  A solid cast that also had Rachel McAdams, Robin Wright, Helen Mirren, and Jeff Daniels, the story was very well executed and Crowe really brought the sense of desperation and confusion to McAffrey's character, playing him exactly as it should be…a man caught between a best friend and the truth he doesn't want to find.
Now into 2010, Crowe returned to a genre he excelled at once before, a period piece of epic proportions, PLUS a re-teaming with epic film director Ridley Scott, in "Robin Hood". How many times is Crowe going to end up with SUCH GREAT ensemble cast mates??  This film boasted Crowe as Robin, Cate Blanchett as Marion, and also included Max von Sydow, William Hurt, Mark Strong, Oscar Isaac, Danny Huston, Scott Grimes, and Kevin Durand.  And Crowe played this version of Robin in a MUCH more realistic way…the story felt more grounded as if you were actually watching a historical documentary about a real person from history.  It very much had a "Gladiator" tone in its delivery, which played to Crowe's strengths.  A fantastic effort.  2010 also gave us "The Next Three Days", a solid drama/thriller with Crowe playing a family man pushed to extremes when his wife is accused of murder.  It was a tense film and I personally liked how the story played out overall.  And Crowe is completely believable in this role as well.  2012 and 2013 found Crowe taking on two very iconic characters…Inspector Javert, a V ERY driven and relentless constable, in the EXCELLENTLY done musical film version of Broadway's classic "Les Miserables" (and won't even get INTO the AMAZING cast he was with…AGAIN! LOL), and then Superman's father, Jor-El in (for ME anyway) the equally amazing "Man of Steel".  Not to take anything away from Marlon Brando, but I actually much preferred Crowe's portrayal of the character…somehow it just seemed more how would have pictured him…even being a scientist, he was still a capable warrior as well.  Moving to this year, Crowe got to shine on the opposite ends of the spiritual spectrum, as it were. First in the awesome fantasy story, "Winter's Tale" with Colin Farrell and Jessica Brown Findlay, and Jennifer Connelly, where he played demon in human form Pearly Soames, who is SET on making sure Farrell's supernaturally blessed and long-living Peter Lake is put out of existence permanently.  Crowe was flat out menacing in this role and he still managed to give the character some wonderfully over-the-top dark humor in the midst of his blatantly evil intentions for not just Lake, but for mankind and the balance in life HE feels there should be.  Secondly, Crowe played a man struggling with God's will but being obedient to it, in "Noah", alongside 3-time co-star Jennifer Connelly.  This was most certainly a different overall take on Noah, as Crowe plays him as more of a warrior, but as an ACTOR, he really brought out the intensity for it, truly showcasing Noah's struggle with seeing the state of mankind and realizing what he has to do and what it may and WILL cost, and is at least note-worthy as a performance, even with all of the blatant discrepancies compared to the source material in the Bible.  Now, Crowe has at least two projects on the horizon, his major-film directing debut, "The Water Diviner" a World War One-set tale following events for a man in the aftermath of the Battle of Gallipoli, and then the 2015 drama "Fathers & Daughters".  So, we have a very prolific and incredible actor in Russell Crowe, and I know I always look to actors like this to ultimately keep delivering the kinds of roles and films that will have us flocking to the box office consistently for their performances.
As always, this is all for YOUR consideration and comment.  Until next time, thank you for reading!