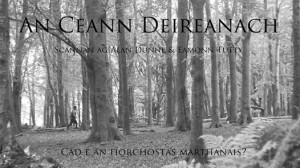 WATCH A TRAILER HERE
Greetings film fans and welcome to a new edition of "In Development" here at OneFilmFan.com.  Granted, it as been a while since the last time I was able to be a part of covering a film from its starting stages as well as being a part of assisting in spreading the word about its Indiegogo Crowdfunding campaign.  So, thankfully, here we are now to bring some additional, ideally helpful, notice to Irish director Eamonn Tutty and his new project, "An Ceann Deireanach (The Last One)".
Taking place in 1847 Ireland, the film will be a hard testament to the savage conditions and strain on men's humanity and very sanity during one of the most trying times in Irish history–The Great Famine. Bringing a potent combination of dark thriller and perhaps non-traditional horror elements to the story, the viewer will be fully immersed via intense visuals, haunting music, and black & white delivery in order to emphasize the true plight these characters–namely Tadhg, Seamus, Jim, and Thomas–are facing and the toll it takes on them. Additionally utilizing a slower pacing to basically make the viewer think about what exactly they're taking in, and therefore be even more engaged in the narrative, the film will bring the reality of its subject to vivid existence thanks to this technique.
But, don't take my word for it.  Director, writer, and co-producer Eamonn Tutty had this to say about the film and its subject via the recent Press Release–"The Great Famine still remains a chapter of great importance and significance in our Nation's history. A time of religious oppression and foreign rule, which scarred our landscape and our mentality. Professor Oonagh Walsh recently conducted a study on the links of the great famine and it's connections to mental health. In a census report carried out in 1841 there were 1,600 inmates in district asylums after the famine by 1900 there were 17,000. The hell in which these people lived truly would have devastated their mental stability seeing loved ones starve to death, people being separated from their families to be put in workhouse's. We want to explore that with our protagonists on this journey of escape and survival"
This is independent film the way it should be.  Telling real, human stories, in a direct, raw, emotional way that is meant to draw you in and make you feel what these characters experience and gain a deeper understanding of the time period being displayed and the struggle of the Irish nation during a truly hell on Earth situation.  So, Eamonn and co-producer/writer/director Alan Dunne need your help.  Below is the link to this film's currently active Indiegogo Crowdfunding campaign.  Twenty thousand Euros is the goal. Please take a look, read more about the film, watch the pitch video, know more about Eamonn and Alan, contribute what you can, and hey, select a perk!!
Indiegogo Link: HERE
Film Website: HERE
It is up to indie film fans worldwide to seek out these projects and, if at all possible, be some part of promoting them and directing people to these efforts.  Because without this support, worthy films like this don't get to happen. Be a part of it this film and help Eamonn, Alan, and Reckoner Productions make it come to life!
As always, thank you for reading and spread the word about "An Ceann Deireanach (The Last One)"!