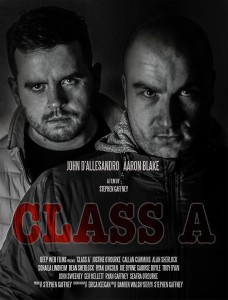 Greeting to all readers, new and old, and welcome to another edition of "In Development", where OneFilmFan.com strives to make mention, briefly or at length, about current independent film projects from around the world that are currently being developed, or, as is the case here, currently filming and looking to get a little extra support.
Heralding from the Emerald Isle, aka: Ireland, I was approached by writer/director Stephen Gaffney in regard to his new project, the high-tension thriller, "Class A".  Dealing with a pair of drug runners who run afoul of a corrupt detective when they've discovered a new method of importing their illegal wares (and hence draw unwanted attention to their operation), this promises to be one intense ride, as Gaffney himself has advised the following about the effort: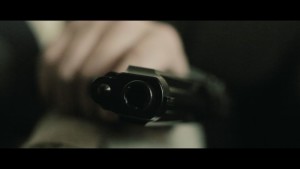 "The film itself is like nothing made in Ireland before. The best way I can explain it Nicolas Winding Refn's "Pusher" crossed with "Spun" on steroids! Ha! It's a serious, realistic story ( with extreme detail about drug dealing, how they really import it etc. ) with very dark comedy mixed into it".
If that doesn't sound like a wild trip waiting to happen, I don't know what is!  And it is this unique, creative style that makes independent cinema such a treasure trove to dive into, as filmmaker's have such a deeper appreciation of story, character, and human connection for their films.  The film will star a large cast of Irish talent, including
John D'Alessandro
,
Aaron Blake
,
Alan Sherlock
,
Joe Byrne
,
Justine O'Rourke
,
Ryan Lincoln
, and
Sohaila Lindheim
.  Assisting with them will be supporting cast including
Saoirse Doyle
,
John Sweeney
,
Dean Sherlock
,
Troy Ryan
,
Seafra O'Rourke
,
Callan Cummins
, and
Ryan Gaffney
.
The film is also produced by Gaffney and his production company, Deep Web Films, which he co-founded with "Class A" cinematographer
Erica Keegan
.  Films they've produced together and individually have won accolades both in Ireland and overseas. Additionally, their feature film debut project, "Bully", just got picked up by U.S./Canada distribution company, Intellect Pictures.  Let's not forget to mention the film's music, brought alive by composer
Damien Walsh
.
So, there is a tradition of success already born and it should be no question that "Class A" will follow that road as well.  To keep up on what is going on with the film and to simply show your support for indie cinema, check out the following links:
"Like"

and follow the

"Class A"

Facebook Page:
HERE
"Like"

the

Deep Web Films

Facebook Page:
HERE
Spread the word, folks, because indie film is still a medium that truly NEEDS this following and word of mouth to draw people in and keep interest alive!
Thanks to Stephen Gaffney and all the cast and crew of "Class A".  We look forward to the film!
Until next time, everyone, thank you for reading!