Passion. It's what makes us excel, perhaps even surpassing our own initial expectations of what we feel we can accomplish within the scope of a given task. Acting would certainly be considered one of these areas that contains the potentials to soar higher than ever or encounter challenges that make an individual truly have to consider their depth of commitment to the art and, when knocked down, choose to dust off and keep moving forward. For my newest interviewee here at OneFilmFan.com, his path has taken him from the island of Trinidad to a current residence in London, England and provided the means to explore the craft he now finds his building success within.
Able to claim a highly diverse series of roles that encompass hero to villain, there truly is an unbridled fervor consistently brewing beneath the movie star looks and straight-to-the-point demeanor we as filmgoers witness. From the negative role he pursued as Nikhil Kumar in the indie effort "Bazodee" to playing a seriously harried spouse in the recent short film thriller "Padlock", there's no doubt the drive and determination to exceed expectations this actor clearly presents. Always learning and never just content to sit by and watch any opportunity pass him by, let's take a insightful look into the world and career of this talent named Valmike Rampersad.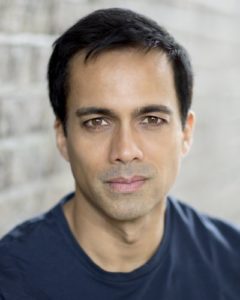 One Film Fan: First off, thank you so much for doing this interview.  So, your bio indicates you were born in Trinidad but currently call London, England home.  Give us the overall backstory of Valmike Rampersad to begin.
Valmike Rampersad: Thanks for having me!  Yes, I was born in Trinidad and I have spent most of my life in England.  London has always been home, but when I am in London and heading back to Trinidad to see my family, I also say that I am heading home and vice versa.
O.F.F.: What first drew you to pursue acting?  Additionally, how did you further learn the art (ie: influences, mentors, and schooling)?
V.R.: I started drama at night school to try to build confidence when speaking at meetings in my old job.  This was initially just a couple of nights a week at a Method Studio in London.  Those classes lead to more weekly classes and then ultimately to The Royal Central School of Speech and Drama.  Every experience on set is an opportunity to learn from both the cast and crew so I am always learning.  I also watch a lot of films and TV in my down time and go to the theatre often as there are a number of actors whose work I admire. 
O.F.F.: What was your very first official professional role and how did that resonate within you to then make the choice to stay with acting as a career?
V.R.: My first role was on a feature film called "Right Hand Drive" (with Annabelle Wallis – "The Mummy") and it was a couple of months before I started drama school.  It was a great experience and a quick learning curve.  It really did confirm to me that getting trained at Drama school was the right decision as I wanted to learn more and couldn't wait to get on to other sets.
O.F.F.: When preparing for a role, do you always have the same routines/methods to get into a character or does that vary depending ON the role?  Additionally, how much research do you tend to do FOR a character?
V.R.: It really does depend on the role.  For example the manic depressive character I played in "Open Secrets" involved speaking to doctors and people who are manic depressive.  I spend a lot of time researching the character and reading material that could help me understand the character.   I usually work with my acting coach on all my roles.  She is particularly helpful when it comes to getting into the head of the character and developing the physicality of the character – like his walk or stare for example.  
Some characters definitely require a lot more work when they are not emotions or characters that come easily to me.  Those are the ones I like best.  The ones that require you to dig deep, the ones that you have to keep experimenting with and continue to evolve even while you are filming.
O.F.F.: Do you prefer more physically driven characters or emotionally driven characters and has there been a certain character(s) to date you've enjoyed most in particular?
V.R.: To be honest I like both!  Every role has both the physical and emotional as they go hand in hand.  The emotionally driven roles are often tougher on a different level and sometimes more difficult to switch off from.  They are great challenges as the characters have so much more raw stuff that you have to tap into.  The physically driven roles like the soldier I played in the forthcoming feature "Boots on the Ground" was incredibly tough as we were on night shifts which meant finishing around 4/5 am most days.  We used real army gear and weapons and the running up and down the hills and forts daily with all that equipment including specially adapted cameras on our helmets, wasn't easy.   I think both the villain I played in "Bazodee" and the abused partner in "Padlock" were my two favorite roles to date as both experiences were enjoyable and challenging at the same time.  "Bazodee" was shot in the Caribbean (a plus!!) and "Padlock" was a passion project that I had been trying to get off the ground for some time but other work always meant putting it on the back burner.  
O.F.F.: Speaking further about roles, you've already amassed quite an impressive array of films, including several short and feature length. Have you found you prefer one over the other so far? Also, I see a little dabbling in Television as well? Elaborate a bit on that, too.
V.R.: I like any medium as long as the character is one that really does appeal to me and offers the kind of challenge I look for.  If the overall story is something I know I would want to watch, then I am more inclined to do it.  The medium doesn't really matter.  Short films can be very intense but so is playing the lead on a feature or a TV series.  It all really depends on the role and the character.  TV tends to have a faster turn around and things change more often on set which can be challenging at times but that's all part of the learning experience.
O.F.F.: So, onto your current project, the excellent short film effort "Padlock", currently on festival circuits, I believe?What drew you to this film?
V.R.: I had read a newspaper interview about a man in a domestic abusive relationship.  I couldn't quite understand how that was possible, so researched some more and as I kept researching I became more intrigued.  I proposed the idea to our Director Ben Hyland and he and Jonathan Young came up with a brilliant script.
O.F.F.: Tell us about the character, Matt, you play in it
V.R.: The official synopsis is that Matt is trapped in an abusive relationship with his partner Julie.  He has been worn down by the years of abuse which is not only physical but also emotional.  All of his fears are revealed one night when Julie opens the padlock on the bathroom cabinet.
O.F.F.: The narrative has one edgy (and creepy) tone and mood to it. What was it like getting into the head of a character like Matt who appears more the victim, yet has within him a great strength of will than is first shown?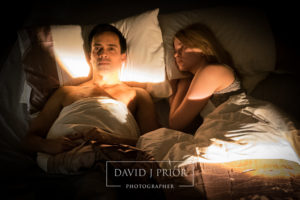 V.R.: Getting into Matt's head wasn't easy as he is in a very depressed place – he is trapped and confused.  It took quite a lot of research chatting to men who had had similar experiences in order to understand why he didn't retaliate at certain points in the film or how he would react to the little jibes Julie would make.  Chatting through the character with Ben our Director and also chatting to men who have been in abusive relationships was a huge help.  
O.F.F.: Being a straight forward dramatic thriller with an enigmatic bend, what was it like to enact so much tension fully in only 20 minutes? I am constantly amazed what filmmakers can do in such a short timespan!
V.R.: It was intense and emotionally draining at the same time and as I lived on the set, it meant that I didn't really switch off.  I thoroughly enjoyed the experience though and would do it all again!
 O.F.F.: How was it working alongside fellow actors like Gina Bramhill, Antonia Bernath, Rebecca Grant, Martina Laird and John Paul Connolly?
V.R.: The girls were all excellent to work with, I didn't get to meet John.  We had a rehearsal pre shoot which is a luxury on a short film and this helped each of us to develop the necessary relationships and motives behind our actions.  We even had a fight coordinator on set in order to help make the violent scenes look real.
 O.F.F.: How about with director Ben S. Hyland? Any funny anecdotes from the set to share with the class?
V.R.: Ben is definitely a funny guy, but I was in a different headspace on this shoot as it was only shot over a few days and I remained focused on the character, often heading off to a quiet corner whenever I wasn't needed, just to prepare for the next scene.  "Padlock" has begun it's festival run and that has given me a much better opportunity to actually get to know Ben outside a working environment.
O.F.F.: What projects are currently on the horizon for you?
V.R.: The next one "Boots on the Ground" has just been picked up for Distribution by Moviehouse Entertainment and I don't want to say just yet what next is in line.  Let me get on set first and I would be happy to send over an update.
O.F.F.: The independent film community is an amazing group, as I have had the honor of experiencing over the last several years in particular.  All over the world is incredible talent and filmmaking, and yet so much of it remains truly undiscovered and/or unheralded. How important do you see it being that the world is made so much more aware of these efforts?  Also, I look at one of yours, "Bazodee", that did get theatrical release, yet still remained mostly unknown, which I found to be so unfortunate.  Is that hard as an actor?
V.R.: Independent films get seen by a lot of people as there are so many film festivals dedicated to it.  Sometimes the odd one gets noticed and goes on to be a commercial success which is great!  Of course everyone wants their film to be a success on all levels as that means more and more people will see it. 
I am not sure if "Bazodee" is the best example as it is still early days – it was released all over the USA playing at various sell out cinemas for over a month, then went on to an Odeon cinematic release in Canada, along with a month long release throughout the Caribbean.  The production team are now working on a Europe wide release off the back of the two awards it picked up at the LAFF festival, and then hopefully the rest of the world.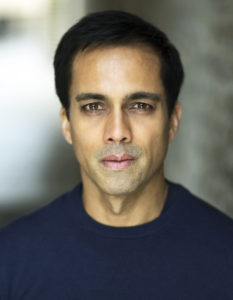 O.F.F.: Love to end with a classic question so many actors and filmmakers seem to not enjoy! Ha! What is YOUR favorite film of all time?  Why?
V.R.: Possibly the "Boy in the Striped Pajamas" or "Dancer in the Dark" because the acting was phenomenal all round and they were films that made me feel.  I thought about them for weeks after seeing them and every so often when I am in the mood for a good cry, I put them on.
Wearing his heart on his sleeve, totally transparent, yet leaving us guessing just enough about other facets of career and his inner self to keep us hooked, it's plain to assess that Valmike Rampersad is a force to be reckoned with as a person paired with the ever-growing acting prowess he puts forth in each performance. Always desiring to change things up and never allow stagnation to set in, it should very much be an ever enjoyable experience to watch this prolific actor's notoriety continue to shine as the opportunities arise.
Want to keep tabs on what exactly Mr. Rampersad is up to?  How about checking out the following ways to do so:
"Follow" Valmike on Twitter HERE
"Like" / "Follow" Valmike's Facebook Page HERE
Check out Valmike's website HERE
"Like" / "Follow" the "Padlock" Facebook Page & Twitter HERE & HERE
"Like" / "Follow" the "Bazodee" Facebook Page HERE & HERE
I wish to extend another heartfelt "THANK YOU!!" to Valmike for his willingness to take time from the craziness of schedule actors take on in order to do this interview! May all independent film fans and moviegoers overall look forward to further efforts from this wonderful artist and may it continue to showcase exactly how much independent film needs to be recognized, promoted, and appreciated.
As always, this is all for your consideration and comment.  Until next time, thank you for reading!