It is FRIDAY!!!!  In a week where the last several days have been fraught with a nasty chest cold, it is at least the weekend and only ONE work day left before a wonderful week's vacation in Florida spending quality time with my parents.  So until that day is HERE, however, it remains time to fight through this sickness and continue to take doses of MY own nighttime (and daytime) sniffling, sneezing coughing aching stuffy head fever so I can rest medicine….some indie cinema in the form of the recently released "Song One".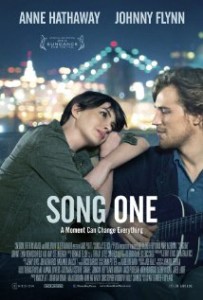 SEE THE TRAILER HERE
Writer/director Kate Barker-Froyland leaves behind her Short Films to take on her first full length film debut that first introduces us to an unnamed singer/guitarist playing tunes in a New York subway terminal for loose change.  Upon finishing, he heads out into the night, but ultimately, things take a sudden turn.  Jump to the Northern African country of Morocco, where we pick up photographer/writer Frannie (Anne Hathaway) who is doing research on a piece until a phone call brings her home to New York where we find out the earlier seen musician is her younger brother Henry (Ben Rosenfeld).  Reuniting and reconnecting with her single mother Karen (Mary Steenburgen) in this time of crisis, it begins a journey for Frannie, whose last time with her brother was a fight.  Now looking at things in a new perspective, Frannie takes it upon herself to travel into Henry's musical world via his recordings and, more intimately, through his journal.  As she begins to visit places he's mentioned, recording sounds he would enjoy, and going to hear music he appreciated, the road ends up taking her into the life of Henry's favorite artist, James Forester (Johnny Flynn), at a concert Henry was going to attend.  Once they meet, and Frannie shares about her brother, it touches Forester's heart enough to visit the hospital where Frannie spends a large majority of her other free time when not at home or out in the city experiencing music.  A whirlwind romance unexpectedly stirs between the two, and soon they are both sharing a brand new world of possibilities and connection in life neither knew they were looking for….or truly missing.  With every song they here, every laugh, every bit of Henry's life they seek to learn about, and the memories new and old that each shares, brings Frannie and James closer and closer together with a release and freedom pulling at their very being.  But the only question that remains….can this new love continue on the path begun…or will other circumstances cause them to live apart?  Further detail would be spoilers, and we all know how I feel about THOSE…so…'nuff said.
As you can already tell, I am a total sucker for a solid romantic comedy, drama, or dramedy, and after being pleasantly surprised by "Laggies" the other night, I will now include that same sentiment for "Song One".  Wonderfully atmospheric, whimsical in one moment, then very serious in another, the story is presented in such a…spiritual…way, as both Frannie and James are completely taken by surprise in the relationship they develop throughout the film.  And, again, "THANK YOU!" to indie film magic for making it a tangible, realistic tale that sweeps you along with it IN its actual simplicity. Like the aforementioned "Laggies", "Song One" invites you to ponder your own life along with the characters and makes you realize that sometimes, there ARE deeper and more important things to consider not ONLY about yourself, but in your relationships with others, family or otherwise.  Hathaway is a perfect casting choice here, as while we know she can more than pull off the big budget features, it is in this smaller realm of storytelling that I feel her talent REALLY shines.  She plays Frannie with the deft mixture of both vulnerability and toughness, without ever over-emoting, making it very REAL to watch and relate to what she is experiencing in happiness, sadness, or anger.  The same can be said for Flynn, who very much pulls off giving us a rather reluctant musician whom you could easily believe would be just as happy to NOT be known and create his art in some far off place just as easily as from the stage or on the road.  And as is always KEY in this genre of film, the chemistry between the leads NEEDS to be plausible, and that was most certainly present here with Hathaway and Flynn.  The soundtrack to this work is a wonderful kaleidoscope of New York indie folk and alternative music, brought to life by several artists including the multi-talented Flynn.  The songs themselves become a character in the film, just like the similarly set "Begin Again".  A smart, intelligent, witty and emotionally charged movie, I found it to be an impressive feature debut for Barker-Froyland, and I hope she is able to do more like it.  I could see why this was a Sundance Film Festival selection in 2014.  So allow "Song One" to make you look at life differently, as the steps we see someone ELSE taking that we doubt or think is a bad idea, can often turn out to be the best for them….and perhaps, even for us.
As always, this is all for YOUR consideration and comment.  Until next time, thank you for reading!