Have we mentioned before that snowy Ohio days are actually perfect for staying inside and watching new release films On Demand?  Well, again, they are! While the movie itself was released back in October 2014 officially, it was only in select foreign markets.  Its U.S. theatrical debut was last weekend in New York City (apropos given the State the film takes place in) and was an illustration for this reviewer that the rom-com-drama is alive and well.  Hence, OneFilmFan gives you "The Rewrite".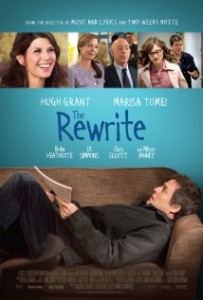 SEE THE TRAILER HERE
Brought to us by writer/director Marc Lawrence ("Miss Congeniality 1 & 2", "Two Weeks Notice", "Music & Lyrics"), the story centers on struggling Hollywood screenwriter Keith Michaels (Hugh Grant) whom, after having one particularly huge film, has fallen into obscurity, unable to successfully pitch any new projects, and basically running low on money and self-esteem. Then his agent calls him with an offer: to be a screenwriting teacher at a small, Binghamton, New York college.  Resistant at first, Keith takes the gig.  After a not-so-smooth meeting with the higher-ups in the department, including Dr. Lerner (J.K. Simmons) and Jane-Austen loving Mary Weldon (Allison Janney), Keith decides to try and just breeze through the "teaching" and ideally get out.  Already on shaky ground with Weldon, much less an ill-advised dalliance with a student, things are not looking good until Keith meets Holly Carpenter (Marisa Tomei), who shows him a whole new way of thinking about his life, his past, what he has to offer his class, and that he can still be relevant.  Further exploration of this brings unexpected dividends as Keith watches everything he's wanted change for the better when the impact he has on the class starts shining through, and opportunities arise for them, and him, to grow and learn.
When something isn't broken, don't fix it, and this is how you feel when watching the film.  Sticking with the formula that brings the viewer both laughs and dramatic depth in key moments, Lawrence keeps you hooked just as he did so well in "Two Weeks Notice" and "Music & Lyrics", also with Grant.  And Grant is so well tailored for this type of character, as he was in the aforementioned two as well as "Notting Hill", giving us the affable charisma, silliness, and wonderfully deadpan delivery while also being able to provide some poignant moments as well.  Tomei also demonstrates this with her winning smile and effortless charm, making her an instantly likeable character as she plays Keith's confidant and conscious.  Amusing performances by the excellent supporting cast, including vets Simmons, Janney, and Chris Elliott, as well as several of the students like the "Star Wars" obsessed Billy (Andrew Keenan-Bolger), sometimes overly bubbly but cute Andrea (Emily Morden), or dark, death-obsessed Annie (Sara Liu).  In total, "The Rewrite" is exactly what you want from a genre that remains popular, and even though it's not always done well (calling "Maid In Manhattan" and "Monster-In-Law"  sorry, J-Lo!), it lets us relax, laugh, have heartfelt moments, and learn some little life lessons along the way.
As always, this is all for your consideration and comment.  Until next time, thank you for reading!