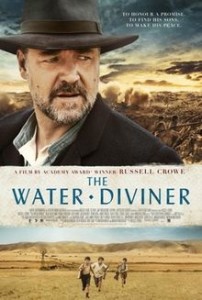 WATCH THE TRAILER HERE
One of the truly great actors of our time, Russell Crowe, both stars in and directs this based on a true account tale regarding a father searching for answers.  It is 1919, World War I has ended, and a humble Australian farmer and water diviner, Joshua Connor (Crowe), has had a hard life after losing his three sons to the Battle of Gallipoli five years earlier.  When another tragedy strikes, leaving him alone and even more grief-stricken, Joshua makes a decision that he will journey to Gallipoli and find the bodies of his sons and bring them home to be buried properly.  Upon arriving in Istanbul, Turkey, he ends up in an inn run by a widow, Ayshe (Olga Kurylenko), slowly befriending her and her young son while there. Still seen as the enemy to many Turkish natives, Joshua faces additional hardships to get the permission from the British consul to go to the battlefield and search, but manages to arrive there and ultimately gain the assistance of the British commander, Lt. Colonel Hughes (Jai Courtney) and Turkish officer Major Hasan (Yilmaz Erdogan). Having success in locating the exact spot where his sons fell, based on previous information he'd gathered, a new and unexpected revelation spurs Joshua onto an even greater journey that will challenge him both physically and mentally as he makes a final push to find out the truth and possibly be reunited in an unforeseen way with family, while also establishing the potential start of a newly revived life.
Thanks to the deft hand of Crowe in the director's chair, the film brings a very impressive, compelling, and dynamic viewpoint to multiple facets of the Turkish world post-WWI as well as offering a deeply moving account of one father's resolve and dogged perseverance to find peace and closure so as to move on in his troubled reality.  It is also deeply effective in showing the beauty and love of family while additionally giving a harsh look at the horrors of war, and the cost it brings to everyone touched by it.  Crowe, with his bearded look and pensive expressions, is simply excellent as Joshua, bringing to us a subdued yet powerfully emotive and moving performance as a man whose lost so much, yet finds hope in the most unexpected of places.  Kurylenko brings her endearing beauty and personality to the character of Ayshe, whose initial reluctance to even acknowledge Joshua is realistic and warranted, though warms as she comes to know him and his quest more.  Courtney handles himself well here, too, in a more dramatic role, as does Erdogan, whose Major Hasan becomes an even more integral part of the story as it unfolds.  Gorgeous cinematography captures the allure of the Australian outback, Istanbul's crowded streets and quaint beauty, and the grim fields of Gallipoli with equal effect.  In conclusion, "The Water Diviner" is the kind of character-driven indie effort that it is wonderful to see actors of Crowe's level bring to the screen, and is most certainly worth the price of admission.
As always, this is all for your consideration and comment.  Until next time, thank you for reading!