Well, as my Fridays off of work are no longer an option given to me, my normally titled "Friday Spotlight" will now be renamed to simply "Spotlight" for the actors and actresses I would like to continue to highlight on a weekly basis.  And given the film review I just finished composing and posting, it reminded me of the OTHER promise I made to a certain young lady that I would write my next "Spotlight" on a mutually admired actress whose film opened this weekend.  Therefore, to Katelynn and the rest of this blog's readers, I give you another of the true gems in Young Hollywood's ranks…..Shailene Woodley.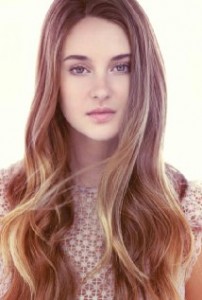 Shailene is actually one of the final actresses among a particular group of up and coming talents that I was initially planning on highlighting, having already covered Saoirse Ronan, Hailee Steinfeld, and Jennifer Lawrence.  I was simply waiting to see the lovely Ms. Woodley's most recent effort in order to actually be able to HAVE a "Spotlight" post for her….as I have only seen 3 of the films she's done so far!  Born in 1991, Woodley actually began acting at age 8 when she made her debut in a 1999 TV film entitled "Replacing Dad".  This would lead to several other TV series roles, recurring ones at that, at ages 10-14 on "The District" with Craig T. Nelson and "The O.C." which starred Ben McKenzie, Peter Gallagher, Adam Brody, and Rachel Bilson among others, and "Crossing Jordan" actually playing the younger version of that show's lead character for 4 episodes.  There was then a small group of TV movies including "An American Girl Adventure", "Once Upon A Mattress", and "Final Approach" between 2005-2007.  All of this, however, would end up leading Shailene to the role that propelled her into the spotlight.
2011 saw the release of "The Descendants" in which she played Alexandra King, a daughter of the films' lead character Matt King (George Clooney), a man trying to reconnect with his two daughters after a boating accident seriously injures his wife.  While I have yet to actually see this film (and that is something I seriously need to rectify SOON), I have heard that Woodley's performance stood out a LOT, which is saying something when your major film debut is opposite the veteran Clooney.  Plus, I have also understood that a particular scene involving Woodley's character BELIEVABLY crying underwater has much potency.  The funny thing is, Shailene had already grabbed the lead actress spot in the TV series "The Secret Life of the American Teenager", which actually had her for its full 5-season run from 2008-2013, yet didn't necessarily put her name prominently on the Hollywood map until she branched out with "The Descendants".  If anything "Teenager" is what caused the film's director, Alexander Payne, to choose her for the Alexandra King role.  Now, however, we get to the first time I ever saw Woodley, which was in the 2013 indie teen drama, "The Spectacular Now", co-starring newly found acting talent Miles Teller.  Playing Aimee, a good girl mostly sheltered from a lot of the world who ends up getting involved with Teller's character Sutter, the popular guy and the total opposite of her, Woodley really amazed me with just HOW realistic her portrayal of Aimee was.  She had such a genuineness and maturity level in the character that really defied Woodley's real-life age, even though she WAS playing a teenager!  The nature of the story called for a more adult sensibility, intensity, and delivery, which Woodley gave out in spades.  I mean, I fell in love with her character just as much as Teller's character did!  And the general themes and content of the film itself was more adult in nature as well, and yet Woodley navigated those waters with ease.  So it was one seriously incredible way to be introduced to her acting prowess.  This has recently continued with this year's young adult fantasy film, "Divergent", based on the book series by Veronica Roth.  Getting to exercise both her dramatic chops as well as action movie moves, Woodley once again brought a character to vivid and believable life as Tris, part of a futuristic society where people have been divided into castes in which they serve for their lives.  However, upon the day she is to choose her faction, the test to determine what that will be shows her to be a "divergent"…someone who is not suited for just ONE caste, which therefore poses a danger to the structure of the society….and to the agendas of certain ruling individuals who have other plans for the world they inhabit.  Woodley completely brings out that great combination of Tris' vulnerability yet unwavering determination to prove herself and seek to change the chaos around her.  Again, you cannot help but be drawn into the whole scenario thanks to Woodley's portrayal of this diverse character.  And finally, the most recent effort Woodley has simply OWNED is "The Fault In Our Stars", a teen-based indie drama from the book of the same name.  Playing Hazel Grace Lancaster, a teen girl whose fight against cancer brings her lessons in overcoming adversity, battling the inevitability of her condition, while discovering real hope and love through a fellow cancer support group member, Augustus Waters (Ansel Elgort).  You can read my film review for more about this film, but I know I will repeat myself here by simply saying this film belongs to Shailene.  Just an incredible performance, that same consistent level of maturity and intensity that belies her young age.  These are NOT light roles nor just any other teen movie characters.  These are ones with depth, presence, adult attitude, and Shailene has proven she can more than handle it all with amazing ability.
Upcoming projects include the indie drama "White Bird In A Blizzard" in which she stars alongside Eva Green, Christopher Meloni, Thomas Jane, and Angela Bassett, playing Kat Conner, a girl in 1988 who ends up with a mother who goes missing, and the forthcoming sequels to "Divergent", "Insurgent" in 2015, and the two-part "Allegiant" in 2016 and 2017.  So it is MORE than safe to say that Shailene Woodley has a SERIOUSLY awesome career ahead of her with the start and impact she is already making.  And it does make me happy to see her be among the new crop of actresses/actors coming up through Hollywood, as this level of new talent hasn't been THIS solid and consistently amazing in some time.  So do yourself a favor and keep watch on Shailene Woodley (and let's face it…..time to binge watch all the stuff I've only heard about, but never seen, from her!) as she IS a true rising star.
As always, this is all for YOUR consideration and comment.  Until next time, thank you for taking the time to read!