Hello!  As a special BONUS addition to the interview recently posted with the creator of "Urban Myths", I was also provided with this letter, written by Kim and sharing some deeper thoughts as to the journey for HER that has become this indie film project.  And now, I would like to share this with you, readers, to help YOU gain a further insider look at how this project became more than a film, but a true passionate pursuit.  Here is Kim's message.  Please enjoy.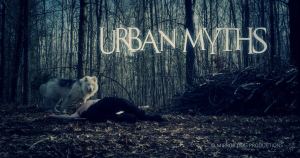 "—   Have you ever felt something so deeply you couldn't find the words to express how important it is to you? Have you ever felt you had to do something with every fiber in your body or you couldn't rest, you couldn't eat, you knew deep in your gut that if you didn't do it you would live with a forever feeling of emptiness?                                       
               That is how strongly I feel about the making of Urban Myths.                                   
I have been working for many years to produce and direct my first feature film. Urban Myths started while I was visiting with a friend talking about living my purpose, stepping out in faith and taking the risk of being vulnerable to everyone who would let me in. That it was time for me to leap and produce, write and direct my first Independent Film.                    
My passion for my personal faith walk and journey of self-discovery played an important role in developing this story. As did my respect and admiration for the Native American Indian culture, Animals, Diversity in cultures and spiritual beliefs. This is more than a story from the heart, more than a dream or passion. It's a way of life, it's my purpose.                                            
               I was in a serious auto accident that altered my life.                        
It made me look deeper in myself and brought clarity to my mission.
When everything you used to be and strived to be is taken away in a few seconds by another individual, in my case a 16 year old texting and driving, you realize what really matters, who really matters and why you are put on this earth. We are all only here for a short period of time and we don't get to take anything with us, other than our soul and the footprint we leave behind. This is my "footprint".                          
We GREATLY appreciate your support!                                
Between us, this film didn't come together easily and has truly been a journey of many levels. I have fought every step of the way to be able to tell this amazing story and I won't quit until it's finished.
So far, this film is only possible because of all the friends, family, sponsors, cast, crew and those who have supported us along the way. I made a conscious effort in the casting process to find new, talented artists who would bring my characters to life. This is not only my first film to write, produce and direct, it is some of our amazingly talented casts first feature as well. I wanted to create a platform that my cast could be proud of their work and would help them showcase their strengths and talents to help further their careers.
This is a project of everyone's passion and we hope you will consider joining the Urban Myths family!"
–Kim Marie
http://www.urbanmythsmovie.com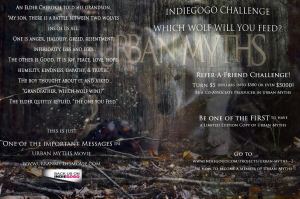 OTHER IMPORTANT LINKS!
FOLLOW the film on Twitter: @UrbanMythsMovie   #UrbanMythsMovie
LIKE the film on Facebook: https://www.facebook.com/UrbanMyths
CHECK OUT the film's Official Website: http://www.urbanmythsmovie.com/