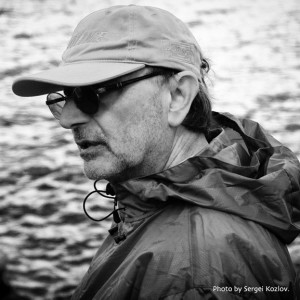 Greetings, readers!  Exciting opportunity abounds as we take the next step in coverage for "Convergence" director Drew Hall's newest project, the currently in active development, steampunk-inspired sci-fi effort, "Aether", with an exclusive interview with Production Designer and Oscar nominee ("Blade Runner") David L. Snyder!  A veteran of the Hollywood movie scene with credits to his name including the aforementioned classic, "Blade Runner", as well as "Demolition Man", "The Woman In Red", "Solider", "The Whole Nine Yards", "The One", and numerous others, Mr. Snyder was kind enough to provide some fantastic and detailed insight into his beginnings, his prolific career, the art of production design, and some information about his involvement in "Aether".  Let's get started!
One Film Fan: The story so far, how were you first drawn to the Production Designer profession? When did it become evident that production design was going to be your career choice?
David L. Snyder: I was always a movie fan, since I was 5 yrs. old. I went to the movies at least 3-times a week. I studied architecture at a public college prep school, Technical H.S. in Buffalo, NY. When I moved to CA., I worked in a R.E. development company as an in-house architectural designer that was developing a 'western' (as in cowboy) themed housing development. I required some research so I managed to get permission to visit the Paramount Studios in Hollywood to 'scout' their Western Street where they were shooting "Bonanza" I realized that motion picture sets were architecture, not just scenery, so I knew I could figure out how to transpose my skills into designing film sets. It looked very glamorous to me, plus it was a way to see the results of your efforts realized in days & weeks instead of months & years as was the case in the real world. Then when it occurred to me that movies were about 'forever' it meant that I could be designing the architecture I had studied in school, from pre-historic dwellings thru the 25th Century and contemporary architecture. It was an epiphany. That was in 1971. By 1974 I was working under the radar (because I was not in the Art Directors Guild) and by 1978 I became an IATSE union member and in 1980 I was hired as the Art Director on "Blade Runner" that led to my AA nomination. Not exactly an overnight success, 10+ years.
O.F.F.: How did you further learn/enhance your skill set (ie: mentors, influences, schooling)? 
DLS: There's only one way to learn/enhance your skills…by working on movie sets and now in the 21st Century, getting all the latest software required to design and realize settings and sets. I did have a mentor. Lawrence G. "Larry" Paull, Production Designer of "1941"(uncredited), "Blade Runner", "Back To The Future" etc. I, in turn, have mentored a number of successful protégés whom I am very proud of: AA nominees, ATAS nominees and winners.
O.F.F.: What was you very first project and how did that prepare you for the future in the film and/or TV industry?
DLS: I began by designing Actors Equity plays (pro bono) and was able to meet many motion picture and television industry players who supported this theatre that was founded by Ralph Waite, Richard Jordan et al. My work seemed to have had some sort of impact because soon I was asked to design a pre-Broadway (tryout) musical-comedy being staged in Beverly Hills entitled "Zen Boogie". Amongst all the creative talent was the company (as in theatre company) manager, Les Moonves, who is now the C.E.O. of CBS, Inc. as were the producers who were in their record-breaking run of "Beatlemania". It seemed as though I was in the right crowd. I can't emphasize how critical this is to having a chance to succeed. From that point on, with the people I had met and the praise of my work, however humble in A.E.A. 99 seat Theatre.  
O.F.F.: To date, based on other projects you've been a part of such as "Demolition Man", "The Whole Nine Yards", "The Woman In Red", Tim Burton's feature film directorial debut, "Pee-wee's Big Adventure", and of course the Oscar nod for "Blade Runner", how has the overall experience of working with directors and actors been? Has it lived up to expectations (if any) you had in getting into the film/TV industry?
DLS: I can't imagine, after 40+ feature films and a lot of Television and theatrical stage design, that I would change any moment of my career life for any other profession. No one knows more than me how lucky I am to have had this astonishing career. My dream has been fulfilled, and that dream was to never work a day in my life, but to go out and play with all the kids. The kids are the cast and crew who have the same purpose in life, and that is to entertain. We are a unique breed of the human race who get up every day to rush to the studio or the set and make magic.
Directors? Gene Wilder and Bob Hoskins were two of the most talented, generous actor directors I worked with; Pete Hewitt on "Bill & Ted"; Like Ridley, Pete is an Art College boy, so he took an interest in the Art Department business which always helps. Alan Metter, director of "Back To School" (the most financially successful film in my resume), was the most clever, witty, improvisational director I worked with; Tim Burton taught me about working in another dimension, and Ridley Scott taught me how not to give a @#$& about rationalizing architectural design.
Actors? Harrison Ford was great to work with and took an interest in the endeavors of the Art Department because he had been a set carpenter early on in his career. Rodney Dangerfield; never had as much fun on a movie; Bruce Willis; I directed him in the 2nd Unit on "TW9Y". He told me I had 5 minutes to get what I needed, but after he trusted me, we got everything I needed! This is tough; so many talented actors in so many movies. Jason Statham in "The One".  I knew he was going to be a star. He had it all from the get-go. Kurt Russell in "Soldier". Hard working and a gentleman. The women? Carla Gugino in "The One", Jessica Rabbit come to life! Elizabeth McGovern in "Racing With The Moon". So beautiful I could barely speak to her when discussing the sets. Her boyfriend, on and off-screen at the time, Sean Penn! He was an amazing young actor who had the gift from the beginning. Although he insisted on being in character 24/7, he was polite, professional, and so unlike his bad-press image. Last, and never least, was the stunningly beautiful Natalie Wood on "Brainstorm". I consider her to be the only movie 'star' I ever worked with. I'm leaving out hundreds of actors. So sorry.
O.F.F.: Given the varied nature and genres of films and TV projects you've had the chance to work on, has there been any one of them to date that really sticks out? Why? 
DLS: "Pee-wee's Big Adventure". Tim and I had met at Disney when he was directing "Frankenweenie" and I was designing "My Science Project". We got along well because we both seemed 'odd' on the Disney Studio lot due to the fact that most of the long-term employees were waiting for Walt to come back to life and Tim and I were working in the future. I was hired by Bob Shapiro, the producer, over the phone without ever meeting. He said Tim didn't want to meet any other designers and the job was mine. Under these circumstances, you know they trust you and between Paul Rubens, Tim Burton, and Phil Hartman (writer), I think we made one of the most unique films of the 1980's. It cost only $7M and returned 7X 'negative' cost, $42M. It gave Tim the keys to Warner Bros. and gave me a break from Science Fiction, which I love, but I was being type-cast so it was a big win for everybody including Danny Elfman who was composing his 1st film score. He was so brilliant that I pitched him to Alan Metter who agreed to hire him on "Back To School" following the "PWBA" premiere after-party at Grauman's Chinese Theater.
O.F.F.: So, onto a current project, "Aether", currently in development……What drew you to this project or how did the opportunity come about?
DLS: Scott Robinson, my producer from "Crave", called to inquire if I was available to do a 'sizzle reel' / prologue for a steampunk movie. I said "Yes, but I may have to go to China on a previous obligation" and Scott said we would somehow work it out. A few months later, I spoke to the director, Drew Hall, over the phone, and we were in immediate agreement that we should work together. Then the date was set and I flew to Mobile.
O.F.F.: Tell us a bit about how it's been overall so far working on this project and the development of the greater film/series.
DLS: Drew Hall has a clear vision of exactly what he wants to do with this material. He ensures that my role in this will lead to a successful collaboration because he is focused on the written material, yet is willing to take suggestions from his team. My job is to assist the director in putting words into pictures, to realize the written material into three dimensions. My art director-set decorator, Mark Terry, visual consultant Kim Bailey, and the entire Art Department including Will's Prop Department has done so much with its budget and resources. I owe a lot to their long hours and skills. Then I must mention working with cinematographer Alex Funke has been everything a production designer could expect from the collaboration. I must also mention the visual effects supervisor / co-director Horst C. Sarubin. Like Alex, Horst and I know so many of the same people we were surprised we had never met. Horst worked tirelessly with my visual consultant Kim Bailey to 'marry' the live-action and visual effects seamlessly together.
O.F.F.: If you can share, what do you personally feel are the biggest strengths of the concepts being explored in "Aether"? 
DLS: It's intended as a new genre of our own design; this is not a specifically steampunk movie / TV series. We will make science fiction motion pictures with visual elements of steampunk in a world of our own unique creation.
O.F.F.: More specifically, how has the experience of working with director Drew Hall to date? Any funny anecdotes to share?
DLS: Drew actually has more faith in me than I have in myself. I credit my success to always being terrified of failure in addition to my directors and producers having faith in me and trusting my judgment. After all, unlike editors, cinematographers and visual effects technicians, a production designer's only tools are their opinions, aesthetic taste and sheer guts. Re: Drew Hall anecdotes; He picked up the check for the A-Team following a delicious meal and drinks at Wintzell's Oyster House. I love this guy.
O.F.F.: I can only guess you feel a great sense of accomplishment in the projects you've had the chance to be a part of, especially some of the bigger films/shows. Do you find you desire to ultimately stay with larger projects, or does the indie film world offer more chances to experiment and be even more creative? 
DLS: After nearly 50 feature films and Television shows and traveling around the globe to stunning locations like Moscow, London, Budapest, Beijing, Australia and even Canada, which I love, I find that the thing I'm most interested in is the people I'm working with. Not just their talent and skills, but I want to work with people who respect me and what I do in my work so I can reciprocate. Truth is, I just want to work with friends, some of whom I have yet to meet. I've spent tens of millions of dollars designing, building and decorating sets and I'm mostly pleased how they've turned out, but aside from "Blade Runner", "Demolition Man" and several others, I'm not just interested in larger projects. I want to work on movies that I would pay to see, and that generally means great storytelling. Last summer, I did a picture in Texas that was under $1M. It had a great A-List Hollywood cast and a great crew. Why did I accept this job? Like everyone involved, I read the script and loved it. I was hooked on Page 3 with just one joke. I love screwball comedies rooted in the 1930's-'40s of Preston Sturges, et al and this was in that genre.
O.F.F.: What advice would you give to someone looking to get into the production side of the film industry in general? 
DLS: Work in every department, even as an intern with no pay, just as I did, and you will walk away from all the jobs that don't inspire and excite you, right into the one you're right for. Always remember that it's a privilege to be working in this business in any capacity. It's one of the last things America does better than the rest of the world. Save your money for in-between pictures.
O.F.F.: Readers know this is always my final question: What is YOUR favorite film of all time? Why?
DLS: I can't pick. But, if you need an answer now, I have to go with this. "The Godfather Trilogy" Why? I'm Italian. It's every Italian's favorite movie(s). My favorite film tonight (which was Oscar night)? "Birdman-etc."
And there you have it folks!  A superb look into the world of the production design aspect of filmmaking as told from the perspective of one of the current masters of the art.  Given the territory he has already covered paired with his love of film, it doesn't appear David L. Snyder will be slowing down anytime soon.  And I think we are all going to agree the films he works on will be the better for it!  Stay tuned for more exclusive interviews and coverage for Drew Hall's "Aether" right here at OneFilmFan.com!  Thank you for reading!
Follow and "Like" the official "Aether" Facebook Page at: https://www.facebook.com/AetherMovie
And remember to utilize the following hashtags when posting about the film on Twitter: #Aether #DauphinIsland #FortGaines #welcomebackscifi