Greetings readers!  Well, thanks to a friend and co-worker this past week, I found out about a special sneak preview showing of a film I wanted to see that doesn't actually arrive nationwide until next Friday.  Disney is truly a company that knows the kinds of films the audience expects from them, at least in my opinion.  When it comes to true story sports films, they excel at bringing the tales to life in a way that even when you KNOW the outcome that is going to play out, the journey to get there is truly inspiring, and I never tire of these movies.  Such as it was with "The Rookie", "Secretariat", "Miracle", "Glory Road", "Invincible", and "Remember The Titans".  The same can be said for Disney's newest, "Million Dollar Arm".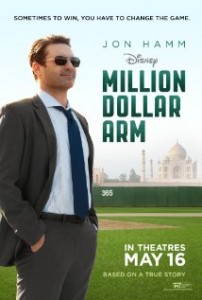 Directed by Craig Gillespie ("Lars & The Real Girl", "Mr. Woodcock", "Fright Night"), and in a departure from his previous films, this is based on the true story of sports agent J.B. Bernstein (Jon Hamm), who used to be successful until making the choice to create his own agency with partner Aash (the always entertaining Aasif Mandvi) and assistant Theresa (Allyn Rachel). Initially having had some superstar clients who've since retired, J.B. has put all his hopes and future financial and business security in a rising NFL player (Rey Maualuga) until the rug is pulled out from under that deal.  Frustrated and not knowing what direction to go, an unexpected viewing of cricket game on TV sparks an unconventional idea…..could he find, train, and ultimately get a Major League Baseball try-out for a cricket player who could learn to pitch.  After, forgive the pun, pitching the idea to his primary investor Mr. Chang (Tzi Ma) about the financial potential to be gathered from an untapped Indian populace, as well as asking for the coaching assistance of USC Baseball pitching Coach Tom House (Bill Paxton), J.B. heads off to India to seek out his recruit.  Arriving there, things do NOT initially go as smoothly as he would like, as the overall set up is slowed down by various procedures and minor local politics, despite the help of two "assistants" who aide him in Vivek (Darshan Jariwala) and Amit (Pitobash).  Adding to it all, a old school scout, Ray (the wonderful Alan Arkin), is sent over to judge the potential pitching prowess of all those who come out to take a shot at the initial payout (and possible big league payout) the "Million Dollar Arm" contest states it has for the chosen winner and runner up. All the while, through many cities around the country, J.B. stays grounded in his building frustrations with almost daily Skype sessions with Brenda (Lake Bell), who is sub-letting a small guest house on his property back in Los Angeles.  Finally, after almost wanting to give up, two stars stand out….Rinku (Suraj Sharma) and Dinesh (Madhur Mittal) and off to America they go to begin training, and we get the initial look at what they really mean not just to their families, but to an entire nation and culture in taking the opportunity granted them.  Through the struggles the two boys have in literally having to learn baseball, much less try to adjust to life in L.A.,  J.B. becomes more taken up with the potential monetary gain to be had than actually investing in the pair's lives, which starts to interfere with the plans he has for them.  Add to this a growing fondness for Brenda and a rekindling of his original NFL deal, J.B. ends up having to look into himself and assess what is more important to him, even when, once again, things fall apart bit by bit.  Plus, he is tested even more when the official pro tryout comes about, and he questions his WHOLE decision in starting this adventure, even when those around him are trying to make him see what the boys really need from him and the person he has become.  From this point, you can honestly guess what direction the film takes and I won't insult anyone's intelligence by giving away any more details about the final outcome of it all.  Plus, my continued attempts to have NO spoilers STILL remains in effect!  LOL
As I stated prior to the main body of this review, Disney REALLY has the handle on this type of feel-good, family friendly story….and I STILL love it!  The whole concept of people overcoming obstacles, pushing through frustration and lack of confidence,  and successfully accomplishing something they never thought possible, is simply amazing to watch for me.  And this film was no exception.  For me, it tells me that it's also NEVER too late to seek out, pursue, and actually SEE your dreams come about.  It takes work, dedication, commitment, and a willingness to experience even failure, but then the fortitude to KEEP PRESSING ON.  Jon Hamm was very solid in his portrayal of Bernstein…..we see a man driven by the thoughts of regaining past success and money having to suddenly adapt to being more of a father figure to these two boys who've been taken completely out of their element and thrust into the spotlight on many levels.  And Hamm brings out the emotional rollercoaster ride his character is experiencing very simply and straight forward, which works.  The supporting cast is all strong as well, but the two newcomers to the ring, Sharma (who you may recall was the star of "Life Of Pi") and Mittal ultimately make up the lifeblood of this story, and their roles accurately allowed them to give us that true sense of awe of two young men put into a life they never dreamed, but having to face the challenges, mistakes, and disappointments that life can bring along the way.  Lake Bell really worked for me in this film as well, as she was able to keep her character, Brenda, well grounded and a voice of reason in J.B.'s playboy life.  So, a success of a movie for me on multiple levels, and it is so nice to have something that IS this straight up and easy to watch while also getting those warm fuzzies that Disney is SO adept at getting out of the moviegoer.
As always, this is all for YOUR consideration and comment.  Until next time, thank you for reading!