Happy Friday all! I decided after posting last week's "Spotlight" on….Saturday….that I might try and see if I could get back to actually doing this on the day indicated in the title again!  You know, the whole free time thing sometimes seems to slip away so easily and yet the WORK days seem to creep along…..but, I digress.  Continuing this week with the "veteran" actor/actress theme, I focus on an actress who I think is the original "America's Sweetheart" in this contemporary movie age…and funny enough, she ultimately starred in a film of (almost) the same name!  Hence, I give you……Julia Roberts.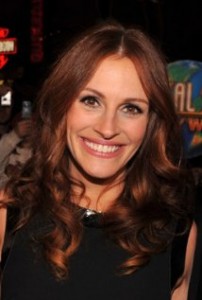 Julia began acting due to seeing the success her brother, Eric Roberts, was having.  As with so many actors who have made a huge mark on the Hollywood scene, she began in two smaller roles: 1987's TV show "Crime Story" and 1987's film "Firehouse", as well as appearances in a 1988 episode of "Miami Vice" and in the TV film "Baja Oklahoma", also in 1988.  The real introduction to the world at large, though, would come in two other 1988 movie roles: "Satisfaction" alongside Justine Bateman and Liam Neeson and "Mystic Pizza" with Annabeth Gish, Lili Taylor, and Vincent D'Onofrio.  As this exposure to a much wider audience occurred, 1989 brought her additional supporting roles in both her brother Eric's film, "Blood Red" with Dennis Hopper and the well-known "Steel Magnolias" with Sally Field, Daryl Hannah, Shirley MacLaine, and Tom Skerritt among others. However, 1990 became the truly banner year for Roberts' career to take off to new heights, as the classic rom-com "Pretty Woman" was released, where she played Vivian Ward, a prostitute hired by a wealthy businessman Edward Lewis (Richard Gere) to be his escort to various functions….until he actually falls in love with her.  This won Roberts an Oscar nomination, and it isn't often one can say you would have these kinds of feelings for a character of ill repute, but Roberts absolutely won the hearts of everyone in this role, as she played Vivian unlike any character of this nature we had seen before, and it solidified Roberts as the new darling of American cinema.  Yet, from this point, Julia chose to move toward more seriously-toned film roles, co-starring with Keifer Sutherland, Kevin Bacon, and William Baldwin in the 1990 thriller "Flatliners", about med students and experiments in near-death gone awry, 1991's "Sleeping With The Enemy", playing a woman who fakes her own death to escape a seriously abusive marriage that comes back to haunt her, 1991's "Dying Young" playing another character who's starting over, only to fall in love with a young man dying of a blood disorder, and then 1991's fantasy, live-action "Peter Pan"-based movie, "Hook", where she played Tinkerbell.  After a few years off from that run of films, 1993 gave us Julia in the John Grisham novel adaption, "The Pelican Brief", a legal drama, in which she co-starred with Denzel Washington, where she played a law student who uncovers a conspiracy that puts her and others around her in danger.  The next several years, between 1994-1996, continued to have Roberts still veering away from the rom-com gold she struck back in "Pretty Woman", even though sticking with several comedy/dramas such as 1994's "I Love Trouble" with Nick Nolte and "Pret-A-Porter" with Sophia Loren and Kim Basinger along with 1995's "Something To Talk About" with Dennis Quaid.  1996 saw the more straight forward dramas "Mary Reilly" and "Michael Collins", and the comedy "Everyone Says I Love You" with Edward Norton and Drew Barrymore.  Now, please understand, while I haven't spent a lot of time detailing most of these films, it has nothing to do with Julia not doing a great job in most of them.  Her acting chops were just developing more and more over this period of time as she honed her skills and proved she COULD do dramatic roles in addition to comedy.  But let's face it, I still feel people were pining for her to return to the rom-com world that she lit up so well in "Pretty Woman".
Enter 1997 and Julia finally DID return to the genre everyone wanted her to, with "My Best Friend's Wedding" in which she played a New York City food critic, Julianne Potter, whose best male friend in life, Michael (Dermot Mulroney) she finds is getting married, and cannot come to terms with it, even as she is asked to be IN the wedding by the bride to be Kimberly (Cameron Diaz). What ensues are a series of events where Julianne tries to sabotage the wedding in various ways, but along the way it becomes a life lesson in being willing to let go.  Roberts just shines in roles like this, and it was refreshing to see her take this on, and filmgoers around the country agreed.  With this momentum, 1997 did still bring a dramatic role with Mel Gibson in "Conspiracy Theory", where she played Alice Sutton, a government worker who ends up involved in the crazy life of conspiracy-theorist Jerry (Gibson) who ends up uncovering an actual cover-up that puts both of them at risk, while also revealing a connection between the two of them.  Again, superb film, and Julia played this character believably opposite the solid chops of fellow veteran Gibson.  1998 also saw the dramatic turn in Roberts playing in "Stepmom" opposite Susan Sarandon, Ed Harris, and Jena Malone, where he was Isabel Kelly, the new woman in Sarandon's ex-husband's (Harris) life, who would therefore be their kid's new stepmother, all while Sarandon's character is battling a terminal illness.  A truly solid drama, and an excellent performance by Roberts.  The end of the 90's, though, was again, a better period as Roberts brought us not one, but TWO turns in superbly done rom-coms: "Notting Hill" with Hugh Grant, where she played Anna Scott….a movie star…whose accidental run-ins with lowly bookshop owner William Thacker (Grant) in the small town of Notting Hill in England sets off a chain of events both comical and heart-warming (and wrenching!),  and "Runaway Bride", a re-teaming with Richard Gere, playing Maggie Carpenter, a small town woman whose reputation for leaving grooms at the alter attracts the attention of a big city reporter (Gere) out to fix a broken reputation and score a huge scoop, but who ends up finding that attempting to destroy her causes him to get to actually KNOW her and, of course, fall in love with her.  Julia, again, is at her best playing this romantic comedy lead character, and her chemistry with Gere was again magical.
Moving into 2000, Roberts gave us one of the truly great dramatic performances she's ever done in playing real life single mother turned legal assistant Erin Brockovich in the film of the same name, co-starring with Albert Finney as lawyer Ed Masry, who reluctantly hires her at his firm when she decides to pursue the poisoning of a small California town by energy giant PG&E when their lack of water purification from a plant in the area leads the residents to get sick, they then try to cover it up.  To say Roberts owned this role would be an understatement, as she brought such a sincere passion and ferocity to Brockovich's character in such a way that you absolutely were routing for PG&E to get theirs!  2001 brought three films to the table, the comedy/adventure "The Mexican" with Brad Pitt, the even greater romantic comedy "America's Sweethearts" with John Cusack, Billy Crystal, and Catherine Zeta Jones, and then played the ex-wife of George Clooney's con man in "Ocean's Eleven" along with Pitt, Matt Damon, Casey Affleck, Scott Caan, Andy Garcia, and a host of others.  I never saw "The Mexican", but "Sweethearts" and "Eleven" were both continued chances for Julia to shine in supporting roles that showed off both the "sweetheart" and tough sides of her characters.  Several years AND films went by before I saw Julia again in 2004's sequel, "Ocean's Twelve", reprising her role as Tess Ocean, as she is back with Clooney's Danny at this point.  In 3006, Roberts lent her voice to play Charlotte the spider in the live-action adaption of the beloved children's story, "Charlotte's Web".  Let me just say I NEVER felt so much emotional connection to a spider in my LIFE, as Julia's voice brought such an unexpected depth to the character and really impacted the whole tone of an already heart-wrenching story.  Roberts flexed her dramatic muscle again in 2007's true story film, "Charlie Wilson's War", playing Joanne Herring, a Texas socialite who was the primary supporter of Texas Congressman Charlie Wilson (played with gusto by the always excellent Tom Hanks) as he covertly funded the rebels in Afghanistan against the Soviets, not realizing the real consequences his actions were going to cause.  Ahead to 2009, Roberts co-starred in the clever con film "Duplicity" with Clive Owen, playing rival corporate spies with a past together that all comes rushing back when they find themselves deciding to try and pull the ultimate con on their respective bosses.  Again, Julia has impressed me a lot in the fact she seems to always have a way to find SOME type of chemistry with her leading men, and it truly assists in making even her more serious films much more enjoyable.  2011 brought about the rom-com territory again and a re-teaming with Tom Hanks in "Larry Crowne", where Roberts' small college speech 101 teacher unexpectedly falls for one of her Summer students, the title character played so well by Hanks.  Again, it is the natural and simply fun chemistry they have that makes the movie watchable.  Finally, the most recent film I have seen Roberts in was 2012's live-action Snow White tale, "Mirror, Mirror" where she gets to really let things go all out (and playfully over-the-top) in portraying the evil Queen who is the bane of Snow White's (in this played by Lily Collins) existence.
So with one diverse filmography under her now-seasoned acting belt, Julia Roberts does continue to be one of my favorite all-around actresses, and is most certainly one of the BEST actresses out there currently.  I still think, though, that everyone is still waiting again for her to take on that "sweetheart" role in a rom-com at some point, and I must say I would agree that it is what endeared us to her in the first place.  Why change a good thing, right? Regardless, Roberts is a force to be reckoned with.
As always, this is all for YOUR consideration and comment.  Until next time, thank you for reading!