Ok, ok, I know…..it's NOT Friday anymore.  BUT….the title of this weekly post IS "Friday Spotlight"…so there.  While a day off, I continue to follow the more seasoned actors of filmdom and this week will also be no exception, other than switching genders, to highlight one of my all-time favorite actresses and now Academy Award nominee and winner as well.  I give you….Sandra Bullock.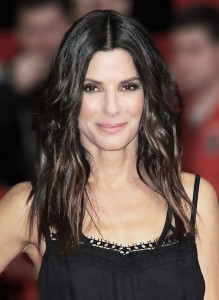 Born in Arlington, VA to her mother Helga, a German opera singer, and father John W. Bullock a U.S. voice teacher from Alabama, Sandra's acting career began back in the late 80's, with several TV and smaller film appearances, most of which I frankly have never even heard of, including "Hangmen"(1987), "A Fool and His Money"(1988), "Religion, Inc."(1989), and "The Preppie Murder"(1989).  Her acting profile started to get a little larger beginning in 1990 when she starred in the short-lived TV series "Working Girl", based on the 1988 film of the same name, that followed the continuing misadventures of executive assistant Tess McGill in an office setting.  Ultimately, though, with the show fizzling, Sandra would be cast in the 1992 film, "Love Potion #9" with Tate Donovan, playing Donovan's friend with whom he shares a special elixir that is supposed to cause any woman to fall in love with him, and the comedy ensues.  Her exposure in this part lead to the 1993 thriller, "The Vanishing" with Jeff Bridges and Keifer Sutherland, playing Diane Shaver, who is kidnapped by Bridges' Barney Cousins, who in turn watches as Sutherland's Jeff Harriman relentlessly searches for her, never giving up hope he will find her.  The film itself was ok, but I honestly still don't remember it THAT much.  1993, however, would be a momentous year for Sandra, as a total of FIVE more films with her would arrive, including "When The Party's Over", "The Thing Called Love", "Fire On The Amazon", and "Wrestling Earnest Hemingway".  However, it was her co-starring role in the Sylvester Stallone actioner, "Demolition Man" that made me take notice.  Playing Lenina Huxley, a San Angeles (watch the film to understand what city that is) cop in 2032 who ends up helping man-out-of-time, L.A. Police officer John Spartan (Stallone) who has been in cryo-sleep since 1996, come to terms with both the new reality he is awoken in and the fact that the most notorious criminal he ever put away, Simon Phoenix (a very entertainingly over-the-top Wesley Snipes), has also come out of his frozen state and is causing chaos in a time where all violent crime has since been eradicated.  Bullock's Huxley is simply endearing, and you cannot help but become completely enamored with the simple innocence, yet tough exterior, the character brings to the action and she played well off of Stallone's Spartan, as her love of all things past helps him deal with a present he cannot quite adjust to.  From this point on, Bullock's career went into high gear, as the next year would bring about some of her best known roles.
1994 started it out with one of the most unique action films I had seen to date, "Speed", where she co-starred with Keanu Reeves, Jeff Daniels, and Dennis Hopper.  Playing Annie Porter, a young L.A. woman who ends up on a bus wired with a bomb that goes off if the vehicle drops below 50 mph, on top of which….she ends up as the bus's DRIVER….Bullock once again brought the combination of her "girl next door" charm with a tough, strong attitude when having to step up to the plate that really made Annie's character a welcome addition to the scenario being played out, as well as creating a solid dynamic between her and the L.A. cop Jack Traven (Reeves) as he tries to navigate the bus and its frantic passengers through the ordeal.  But even more so than in "Speed", as far as an engaging and completely endearing character, Bullock hit one out of the park in playing Lucy, a lonely transit booth worker in Chicago, for 1995's classic romantic comedy "While You Sleeping".  When an accident puts a businessman, Peter (Peter Gallagher), whom she sees every day coming to take the train to work, in a coma, the events that ensue in her quest to keep tabs on his condition end up pulling her into his family's lives, and more specifically into the heart of Peter's brother, Jack (Bill Pullman).  The events depicted, even though extraordinary,  seemed so feasibly REAL, and Bullock created a character that again, you just HAD to fall in love with, with the amazing smile and whimsical charm she exuded in playing Lucy.  1995 also brought the indemnity-theft thriller, "The Net", where Bullock played Angela Bennett, a computer programmer who gets involved with the wrong guy and ends up finding a deeper conspiracy that puts everyone in her life in danger while her OWN identity is erased.  It was a solid film, but again, it's really Bullock's character that carries the story and at least kept it watchable. 1996 brought a bit more diversity to Bullock's resume in a comedy, a legal thriller, and a historical drama.  "Two If By Sea" I never actually saw, where she played Roz, the girlfriend of a petty thief played by Denis Leary, who decides to try and pull one last job, so I cannot speak to her performance there. The next one was the excellently done "A Time To Kill", based on the John Grisham novel, where she played a career-minded law student Ellen Roark who gets caught up in the pending trial of a Mississippi man Carl Lee Haley (Samuel L. Jackson) who takes justice into his own hands after the rape of his 10-year old daughter by men tied to the KKK.  Bullock's Roark ultimately becomes the researcher for lead attorney Jack Tyler Brigance (Matthew McConaughey) and his co-counsel Harry Rex Vonner (Oliver Platt).  With roadblocks to overcome ranging from the KKK to District Attorney Rufus Buckley (Kevin Spacey), Bullock brought a much edgier side to this character than we were used to seeing, and it began to show her range as an actress. And then came the based on a real story film, "In Love And War", co-starring Chris O'Donnell, where she played WWI nurse Agnes Von Kurowsky who becomes involved with an injured patient, Earnest Hemingway.  While a very bittersweet tale, Bullock brought such a sense of passion to the role that again, made you really believe the character and the stormy romance that Kurowsky reluctantly developed with Hemingway.  Sadly, 1997 brought about one HORRIFIC "sequel" to the hit "Speed" in "Speed 2: Cruise Control".  Despite reprising her role as Annie Porter, even Bullock could NOT save this dud of a film that really should NOT have even been made, much less billed AS a sequel to the first film.  The overblown, TOTALLY unrealistic plot about a cruise ship "speeding" toward disaster and just bad writing overall just, pardon the pun, SUNK this movie.  Even Willem Dafoe, who can usually engage us when playing villains…..uh, NO.  And even more unfortunate was the rest of the late 90's was NOT strong for Bullock, as films such as "Hope Floats", "Practical Magic", and "Forces of Nature" just didn't capture characters that were close to as fun, charming, OR tough as so many of Bullock's previous roles.
Now we head into the early 2000's and even THEN, despite a lot of films she was involved in, I am hard-pressed to find many that really stood out for me or that I actually saw for that matter.  2000 itself brought the comedy "Gun Shy", which I never saw and did not really hear too much good about that I recall.  The drama "28 Days" also got released in 2000, but again, it just did not attract my attention enough to want to see it, despite Sandra's presence.  Finally, though, one came through that at least for me, returned Bullock to her "norm", "Miss Congeniality".  Playing Gracie Hart, a down-on-her-luck FBI agent (after a major screw up…much to the ire of her boss), who ends up involved with an investigation into a bombing plot at the Miss United States pageant by actually having to BECOME one of the contestants (MUCH to the initial ire of Gracie, who is really more of a tomboy in action and attitude), Bullock just SHINED in her patented way of giving us superb comedic moments intermixed with genuine pathos and drama.  Plus, her interplay with lead agent, Eric Matthews (Benjamin Bratt) and very entertaining and flamboyant pageant coach Victor Melling (the great Michael Caine) is just SO funny.  Along with wonderful supporting roles for William Shatner and Candice Bergen, the film was the type that Bullock truly excels in. 2002 brought "Murder By Numbers" and "The Divine Secrets of the Ya-Ya Sisterhood", both of which just did not grab my attention.  Fortunately, there was also 2002's "Two Weeks Notice", a romantic comedy that had Sandra playing Lucy Kelson, a rights activist and lawyer who unexpectedly gets hired by the very rich land developer she has been lobbying against, George Wade (Hugh Grant).  An absolute charmer, it carried the same kind of mix of humor and drama like Bullock had in "While You Were Sleeping", and she does this SO convincingly it borderline maddening because I keep falling in love with her characters!  The next couple of years saw several films that, AGAIN, I didn't really have any true interest in, I never saw, or I didn't like.  These included 2004's "Crash" and 2005's "Loverboy" (never saw), the 2005 sequel "Miss Congeniality 2: Armed and Fabulous" that was, at most, ok…nowhere CLOSE to the quality of the first sadly, and 2006's "The Lake House" a re-teaming with Keanu Reeves that I just never saw, and 2006's other film, "Infamous", which I also never saw.  2007 finally brought another film that was actually a surprise for me, "Premonition" co-starring Julian McMahon, where she played Linda Hanson, a depressed housewife still coping with the death of her husband in a car crash…until she wakes up the next day and finds him still alive and well, only to go ANOTHER day and be back in a world without him.  It was one wild ride and Bullock really held this film together in a powerful way and kept it from sinking into being a cliché, frankly.  Jump to 1009, and Bullock finally had a great run of three films, all of which I personally loved in the fact they showcased her overall range very efficiently.  The first one, the romantic comedy "The Proposal", was just SUPERB in her chemistry with Ryan Reynolds, playing a VERY witchy head book editor Margaret Tate who creates a devious scheme to keep herself from being deported to Canada by roping in her unwitting assistant Andrew Paxton (Reynolds).  However, as things play out, and Margaret is faced with the reality of family and unintended love, the whole story turns into a very engaging comedy/drama that is just SO well done by Bullock.  Next up was the little-loved but I thought also entertaining comedy "All About Steve", in which Bullock charmed again as a slightly off-kilter crossword creator Mary Horowitz who, in making a mistake in professing her love of a blind date she went on with news cameraman Steve (Bradley Cooper) via a crossword, gets fired and then decides it's time to pursue Steve even more…no matter WHERE he is!  I thought it was one of those simple, straight-forward goofy comedies that had HEART to it thanks to Bullock, whose Mary is yet AGAIN one of those people you cannot help but love, even when she is being annoying to Steve!  2009 rounded out with the Oscar-winning performance Bullock delivered in the true-story film, "The Blind Side", where she took on the role of Leigh Anne Tuohy, a wealthy interior decorator who takes a homeless, traumatized boy, Michael "Big Mike" Oher (Quinton Arron) into her family's home and heart after a spontaneous decision to reach out and help someone in need, and ultimately helps him gain an education and life direction playing football.  Talk about playing someone real SO….REAL…Bullock brought a level performance to this role that pretty much eclipsed everything she had done prior on many levels.  It's a heartwarming AND heart wrenching character for her to take on, and just as inspiring, as Oher ultimately went on to the NFL and is still playing to this day.  Just incredible, and Bullock's performance got her the much-deserved first Oscar win for Best Actress.
After a few more years off, 2011 had "Extremely Loud and Incredibly Close", which I did not see, but heard many good things about, as it was a drama based on the backdrop of 9/11 and a family impacted by the loss of a husband and father. Basically, the type of film I could most certainly see Bullock doing well in.  Jumping to 2013, Bullock had the comedy "The Heat" with Melissa McCarthy, which I also never saw, as I am VERY picky when it comes to modern comedy films, not due to anything being wrong with the actors in them, but more so the level of certain content ceases to be funny OR entertaining to me.  However, 2013 DID bring another unexpectedly awesome performance by Bullock in the Alfonso Cuaron space epic, "Gravity" in which Bullock played Dr. Ryan Stone, a medical engineer who finds herself in a seemingly hopeless situation when an unforeseen accident leaves her adrift in space with no immediate way apparent to get back to Earth.  Now, when I first saw that premise…I honestly had NO interest in the movie at ALL, despite Bullock's presence or George Clooney's.  But then I started hearing all the RAVES the film was getting and finally decided there MUST be SOMETHING to it.  And I am SO glad I did.  Thanks to Bullock's ability to really convey her character's personas and states of being in a film, the sheer moments of terror, sadness, loss, then confidence, hope, and determination portrayed were very potent and ended up lending a semblance OF believability to a rather unbelievable circumstance.  You were feeling every moment Stone was going through, just wanting to know HOW she was going to accomplish what she needed to do in order to get home.  Bullock deserved the Oscar nomination for this role and even though there was not a win in that respect, it doesn't take away from her performance.  Currently, Bullock has at least two projects on the horizon, which are 2015's "The Minions", an animated offshoot featuring the hilariously lovable yellow characters from the "Despicable Me" films, where Bullock is doing the voice for the main villain, Scarlett Overkill, and then the recently announced sequel, "The Heat 2".  So here we have a truly diverse actress who, though having plenty of ups and downs through her movie career, has still already shown that she is one to contend with and keep an eye on as her star continues to shine.
As always, this is all for YOUR consideration and comment.  Until next time, thank you for reading!