Happy Friday readers! Well, as I have lately been gravitating towards covering some of THE biggest names in Hollywood for my Spotlights…….why stop now?  And yes, it will be a novel, but hey, this guy deserves it!  So without any further ado, let's launch right in with another gifted actor and one of the most overall "normal" people you could probably find in the business….I give you…Tom Hanks.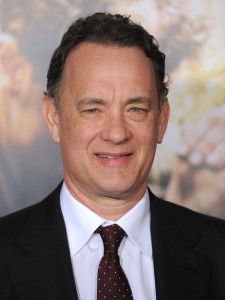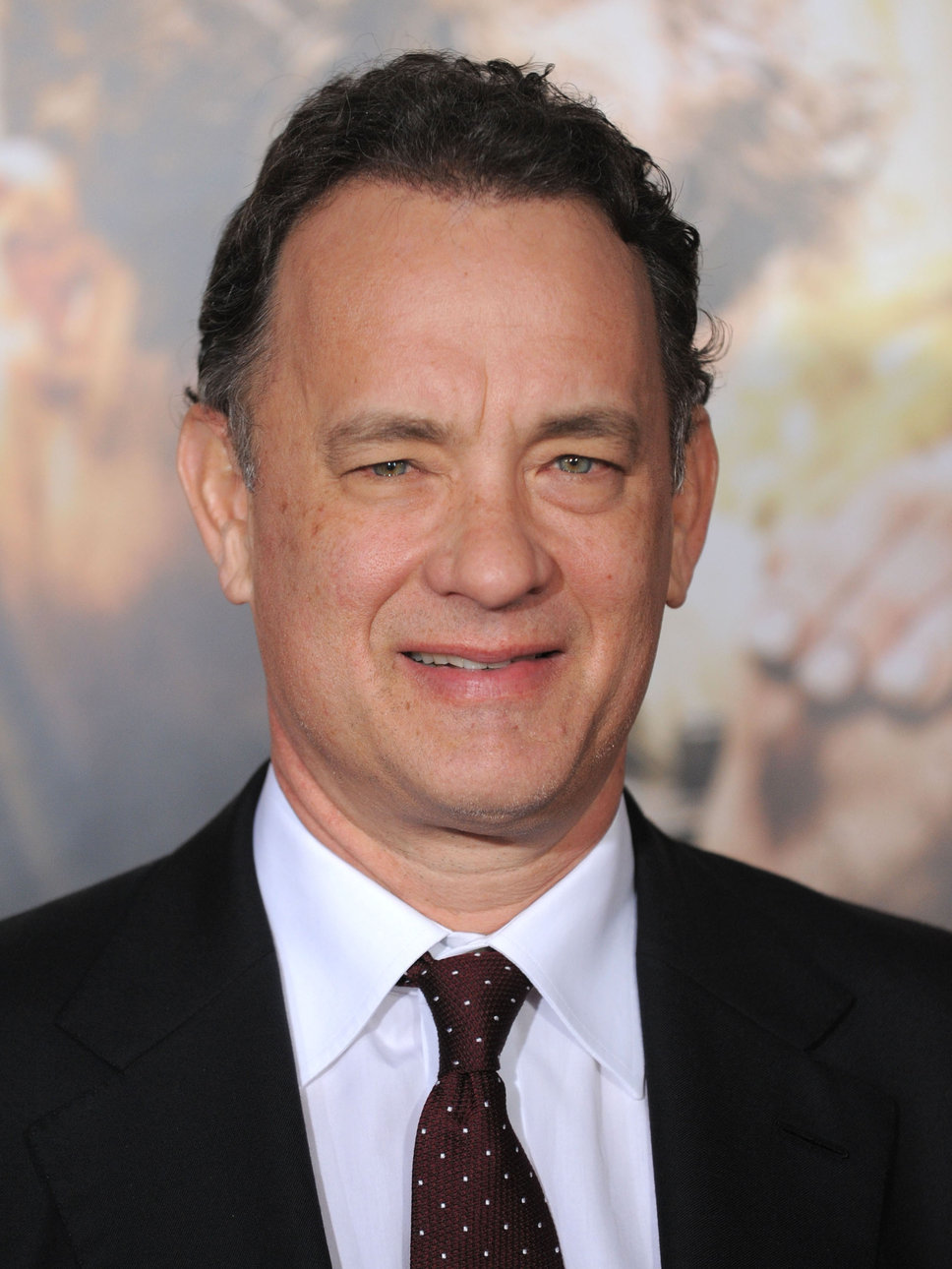 Hanks truly represents the best of Hollywood, in my humble opinion.  Not only is his acting and producing talent simply stellar, but as a whole, he seems to be one of the few stars whose actually managed to keep his nose clean in a business often known for causing people to go to other, sometimes damaging, extremes.  Married now for over 26 years to actress Rita Wilson, a solid family life, consistently helping out other organizations and charities, all while staying quite the humble man, Hanks has proven that you CAN live like that in the midst of the insanity that is The Industry, if you will.  While his first big exposure to the world was in the sitcom, "Bosom Buddies" from 1980-82, my first time seeing him was in the classic Ron Howard-directed fantasy/comedy "Splash" in 1984, playing Allen Bauer, a mildly successful man who has a chance run-in with the last thing you would expect…a mermaid (played by Daryl Hannah) and proceeds to fall in love with her while trying to also protect her from scientists with less-than-grand plans for her future.  It was this completely innocent type of story, and yet I could not help but be swept away by it.  And Hanks just made Allen someone you could not only root for, but RELATE to.  Now Hollywood knew even more about Hanks in comedy, so the rest of 1984-1987 was filled with multiple comedic roles including "Bachelor Party" (1984), "The Man With One Red Shoe" (1985), "Volunteers" (1985), "The Money Pit" (1986), "Nothing In Common" (1986), and "Dragnet" (1987).  Funny enough, I actually saw NONE of those films!  My next experience with Hanks would not be until 1988, when Hanks took the role of the grown-up version of Josh Baskins in Penny Marshall's also classic fantasy/comedy, "Big".  Again, Hanks brought that nice-guy feel to the story about a teenage boy who one day decides he wants to be grown up and wishes this via a "wish machine" at a local carnival, only to wake up the next morning with his wish fulfilled. From there it is a hilarious ride through the perils and triumphs of being in the adult world and the lessons learned hit your heart effectively thanks to Hanks.  The rest of the late 80's brought us "Punchline" (1988), "The 'Burbs" (1989), and "Turner & Hooch" (1989) which again, I did not actually see, or at least not until well after that decade! While many of those other films were solid performances, the 90's would bring about some serious leaps forward in Hanks' career.
The year 1990 brought me to "Joe vs. The Volcano", a small, somewhat quirky comedy starring Hanks and who would eventually be a multi-film co-star, Meg Ryan.  In playing the character Joe, who learns that he is dying and finds himself willing to take up an offer to jump in a volcano on a remote island as his big send off, Hanks yet again shows off his "normal guy" chops and even though the film was not widely liked, I still got that enjoyment of the actor playing both the comedic and dramatic angles of the film expertly.  Plus, the chemistry he had with Ryan's Patricia was just perfect.  They played off each other very well on many levels.  It was just a fun romp that you could enjoy as some mindless escape.  I did not actually see the other 1990 film Hanks did, "The Bonfire of the Vanities", as I heard it actually was not that great.  So I just stuck with films I already had on my radar, which would next be 1992's Penny Marshall-directed "A League of Their Own", based on the true story about the formation of the first all-female professional baseball league (with one amazing cast!), where he played a washed-up, alcoholic, former pro player Jimmy Dugan, roped into coaching one of the teams.  Yet in doing so, he finds his value again as a person and takes the girls to success all while dealing with the drama that comes with being on the road with a group of women.  And Hanks is just plain BRILLIANT as Dugan.  Both serious and funny, the character gets such invigoration from Hanks' acting.  1993 brought his first re-teaming with Meg Ryan in "Sleepless In Seattle", a wonderful romantic comedy/drama about a man who loses his wife, dealing with the grief, and finding love again.  And the Hanks/Ryan chemistry was back on full display, and so genuine, that even the comedic elements seem to pale compared to the pathos the film elicits in seeing this couple find each other.  The same year, Hanks wowed everyone in the powerful dramatic role of Andrew Beckett in "Philadelphia", as a gay lawyer stricken with AIDS and the attorney he hires (the great Denzel Washington) to defend him in a wrongful dismissal suit.  Admittedly, as the overall theme of the film did not appeal to me personally, I never saw the movie, but Hanks' performance won him his first Best Actor Oscar.  And how better to follow up an awards win….by giving us a TRUE classic…1994's "Forrest Gump", which won him his second Best Actor Oscar.  Playing the low-I.Q.'d but BIG-hearted lead character, Hanks simply WOWED us in this portrayal of how a simple man can change SO many people's lives around him as we see him end up in so many of the U.S.'s biggest historical events, doing every duty and task well beyond what most would think him capable of, despite ALL of it paling to his deep, deep love for childhood sweetheart, Jenny (a superb Robin Wright) and trying to protect her from herself. It is one gut-wrenching, heart-wrenching ride, and Hanks MORE than deserved that second Oscar in as many years.  Not slowing down at all, Hanks yet again brought the "real guy" quality to bear by PLAYING a real person, astronaut Jim Lovell, in 1995's EXCELLENT Ron Howard film "Apollo 13".  A performance that also just nailed you square in the heart, the story of what appeared to be the doomed Apollo 13 spaceship crew exudes the terror, hopelessness, disappointment, then utter courage of the 3 men trying to get home, all while friends and family watch helplessly from Houston or homes.  Simply an amazing performance for Hanks…AGAIN.  1995 would also bring Hanks' talents to another place…voiceover acting…as the animated character Woody in Pixar's "Toy Story", which gave Hanks a chance to bring out his boyish charm and channel it into the toy cowboy figure he plays, which by NO surprise, he nails!  The next year would give us Hanks' major film directing debut in "That Thing You Do!", in which he also had a supporting role as a big time music producer in 1964 who takes a fledgling band, The Oneders (and that's The ONE-ders, not The O-Nee-ders! They change it finally to The Wonders) under his wing in view of a massive pop hit they compose.  Even when not on screen, Hanks' presence is all over the film, as the execution of the character's humor and drama, both subtle and blatant, is great.  Skip ahead two years to 1998 and Hanks REALLY turned the dramatic chops on for the Steven Spielberg-directed WWII film, "Saving Private Ryan".  I mean…Spielberg and Hanks….TOGETHER….two of the biggest names around…and boy did they just bring us another gut-wrenching, heart-wrenching story about a small group of soldiers tasked to go into the heart of the war in Europe (after surviving the Normandy D-Day landing…it is HARROWING) to find and extract a private, whose other brothers have been killed in action, and get him home at the request of the highest U.S. officials.  This had to be one of THE most realistically portrayed war films I have ever seen, and Hanks' Captain Miller makes you live every moment of the events that occur under his command of the ragtag group. And as always…he makes you BELIEVE every single moment.  Just a superb performance…AGAIN.  1998 also brought about Hanks' third film with Meg Ryan, "The Shop Around The Corner", updated version, "You've Got Mail", where he plays a rather unscrupulous bookstore chain owner who ends up learning a thing or two from the owner of a tiny bookshop that his store is about to put out of business. Need I say more…Hanks and Ryan give us the exact romantic comedy/drama we desired and expected. Hanks rounded out the 90's with a return to voicing Woody in the worthy sequel, "Toy Story 2", and also excelled in the dramatic arena again in "The Green Mile", playing a 1930's Death Row guard whose life and the lives of his crew are changed in fantastical ways with the arrival of a certain, new prisoner.
So, we reach 2000 and finally Hanks decided to slow down…..uh…NO!  Starting off this new decade was yet ANOTHER example of not just Hanks' "normal guy" aura, but also the extent he would go to play a character.  "Cast Away" found Hanks ultimately dropping 50lbs to play a Fed-Ex employee whose plane ends up crashing in the ocean and finds himself stuck on a unknown island location for YEARS.  It is one amazing feat to see Hanks play this character once stranded, because there is almost NO dialogue….and yet we FEEL every struggle to survive he goes through.  A few years later, in 2002, Hanks took on a role that frankly, for some reason, I was actually skeptical about upon hearing about it….a mob hitman.  It just went against almost EVERY character Hanks had played, and seemed SO outside his wheelhouse.  Of course, he VERY quickly dispelled ANY doubts in what has become one of my favorite all-time films, the dark, gritty, intense (but SO well done) period drama, "Road To Perdition".  Playing Michael Sullivan, a hitman for a crime boss with Chicago ties in 1931 (played by the late, great Paul Newman), he ends up having to protect his son after the boy witnesses something he should not have.  It is a potent drama that unfolds in this film, and Hanks EXCELLS in this role, playing this seemingly unforgiving man at one moment, and then a tender-hearted father the next. I mean…WOW!  2002 also brought back a more light-hearted dramatic/slightly comedic Hanks role when he took on real-life FBI Agent Carl Hanratty, whose mission was to capture infamous fraudulent check writer/con-man Frank Abagnale Jr. (played very solidly by Leonardo DiCaprio) in Steven Spielberg's "Catch Me If You Can". The dynamic between Hanks and DiCaprio really elevated this film, which was already entertaining to begin with, as I was unfamiliar with this whole incident.  Jumping to 2004, Hanks had 3 films out…another I never saw, nor wanted to see, in the Coen Brothers' "The Ladykillers"…an awesome, smart dramatic comedy in yet another Spielberg film, "The Terminal", playing a foreign man who gets stuck in an airport terminal after his country ceases to exist anymore….and a second voiceover role in the surprisingly great holiday film,  "The Polar Express".  Moving to 2006, Hanks then tackled a popular novel character when he portrayed symbologist Robert Langdon in the Ron Howard-directed film adaption of Dan Brown's controversial book, "The Da Vinci Code".  Regardless of the theology in debate in the FICTIONAL story, Hanks proves he can play even a really, really SMART, normal guy and yet do it in a way we can all relate to and cheer for.  2007 came with "Charlie Wilson's War", the true story of Texas congressman Charlie Wilson who secretly assisted rebels in Afghanistan against the Soviets, not realizing the long-term effects his efforts were causing.  And does Hanks hit this role well, too??  Of COURSE he did!  2009 saw him return as Robert Langdon in the film adaption of Dan Brown's second book, "Angels & Demons", solidly delivering the role again.  2010 brought the third installment of Pixar's "Toy Story" series, which was a REALLY good film.  2011 saw Hanks opposite the always fun to watch Julie Roberts in his second major film directing effort, "Larry Crowne", which I honestly thought was a great little romantic comedy, but many people didn't seem to think it was a good effort.  I never ended up seeing 2011's "Extremely Loud & Incredibly Close" that Hanks did with Sandra Bullock, but heard many good things about it, nor did I end up seeing 2012's epic science fiction tale "Cloud Atlas", of which I heard mixed reviews (but I am fairly certain Hanks was good! lol), Finally, 2013 provided two EXCELLENT choices for Hanks. First was the true-story film "Captain Phillips", with him playing the title character whose freighter was attacked and hijacked by Somali pirates in 2009. Hanks delivers an intense, VERY real performance in this film, and the last moments of it ALONE could have won him another Oscar.  And then he got to play another real icon of the entertainment industry, Walt Disney himself, in the fantastic true-story drama "Saving Mr. Banks", about Disney's efforts to bring the book "Mary Poppins" to the big screen, despite the SERIOUS protests and controlling attitudes of the books' author P.L. Travers (played EQUALLY as great by Emma Thompson).
SO…..yeah…the guy is KINDA successful!  But I don't know of any other actor who has so CONSISTENTLY brought the "everyman" to the big screen like Hanks, and he is EASILY in my Top five overall favorite actors of all time.  With a couple of projects on the horizon, including the drama he is currently filming, "A Hologram For The King", slated for 2015, and then the just announced third film for Dan Brown's book series in the adaption of "The Lost Symbol", once again taking on Robert Langdon.  So there you have it.  Does Hanks have ANYTHING left to prove??  I know for ME he doesn't, but I truly hope he keeps on doing films as long as he can, because I think having that "everyman" on the screen every once in a while is a darn good thing!
As always, this is all for YOUR consideration and comment.  Until next time, thank you for reading!