Good day, readers, and welcome to the second installment of "In Their Own Words" for the new year!  Happening fast and furious right out of the gate, having just published OneFilmFan.com's interview with "Providence" actress Juli Tapken, why not go for the double play?  Therefore, I have the distinct pleasure of presenting this interview with another actress from "Providence"! With one amazing story to provide that leads her not only into the acting world, but chances to rub shoulders and learn from some of the biggest names in the industry (oh yeah, there's some name dropping coming up!), she has truly amassed an already impressive career while also finding time to humbly help others reach their dreams as well!  So, it is with excitement and great respect that OneFilmFan.com introduces Irene Santiago!
One Film Fan: A Puerto Rican heritage, but born and raised in Salt Lake City, UT. First tell us a little about who Irene Santiago is and what the initial steps were that got you interested in film/entertainment.
Irene Santiago: Well, I grew up in a little town called Kearns in Utah, about 30 min away from the Salt Lake City. As you mentioned, my parents were immigrants from Puerto Rico. I am the youngest of 8 kids, (3 brothers and 4 sisters). We didn't have a lot of money. My dad was diesel mechanic and my mom was a stay at home mom. They were hard-working, and from whom I received my hard-working principals from. I am married and have 2 great kids: a boy almost 16 and a girl who's 10 years old. We live on the East coast. I love sushi, Italian food, and travel. If I get a chance, I like to learn about historic places when I am on the road. I am one of those people who actually enjoys reading the plaques and signs in a museum or on a walking tour (it drives my husband and son crazy).
When I was about 8-10 years old, we didn't have a lot of money for extracurricular activities. My dad had suffered 3 heart attacks and had to go into medical retirement. This forced my mom to go to work as an assembly line worker for a medical supply company. By this time, the 3 youngest kids were still at home; me and the twins (one sister and one brother). We couldn't afford playing in sports and such, but we always found a way to entertain each other. We would get the TV guide (do they even have these anymore?) and we would act like we were the news team. My sister & I would be the news anchor; my brother would be the camera man. We would read the synopsis for "Saturday Night Live" or "Gilligan's Island", would memorize skits from "Rosanna Anna Dana" from SNL, or pretend we were doing soap operas.  I loved that! I always wanted to be in television! I had so much fun pretending. Basically – we just wanted to perform. Finally, my parents had enough and set aside a little bit of money to enroll my sister and me in dance class.
Being the youngest I would observe all the talents my other siblings possessed. They were funny, or could sing and dance. I really wanted to be recognized for something that I could be good at, not just recognized for being the baby of the family. Later, I got involved in modeling and acting, during which time I had a job as a singing telegram. It was one of the most fun jobs I ever had.  I was able to work on different characters, singing, and doing comedy. The comedy was all improv. And yes, I had one of those creepy, cymbal playing monkeys with the spooky eyes.
O.F.F.: How did you further learn the industry skills you have (ie: mentors, influences, and schooling)?
I.S.: I have been in this industry for over 25 years, so I better have learned something.  I have worked in front of the camera as well as behind the camera in a myriad of positions. Lessons are everywhere.  I am consistently learning. I have had some amazing mentors that I truly respect and that have shaped my career.
When I was at Sundance one year, Robert Redford told me "Take the direction in part. Don't get so confused with it all at once. Focus on what is important now to your character at this time and place". Phillip Seymour Hoffman told me "Really listen to the director, because they mean what they say and say what they mean. Don't get caught up in on-set politics. Focus on YOUR work". Joan Darling (a director for "M*A*S*H*", "The Mary Tyler Moore Show") asked me how things were going on a set I was working on once. I explained there were a lot of divas on-set throwing tantrums, we couldn't get through one scene, and I was frustrated. She said "Bring a newspaper, magazine, or crossword puzzle. Just take it out, and when they ask what you're doing, tell them your killing time until they are ready to work". I love that woman! It worked.
I had a position at a much respected agency in Utah as the New Faces Director for a few years. It taught me you have to be tough, shrewd, but respectful no matter who they are. If you are going in for a professional opinion, be prepared for the answer. I was the one who had to tell actor and model hopefuls "NO. You are not for us." or "You are not ready for this business now". Needless to say, I had a lot of tears and angry parents come into my office. Some of the wisest words from an acting coach I had was "You only need two people to believe in your success, and one of them better be you! If you are not learning, you are not growing". –Molli Benson
In all of this I learned the bottom line is BE PROFESSIONAL. Do the work. Study and learn from the criticism. You can cry, it's OK, but come back stronger and wiser.
O.F.F.: What was the very first professional film experience you had and how did that influence your desire to become even more involved with it as a career?
I.S.: My first speaking role was a little movie called "Just in Time". My scene was opposite Mark Moses ("Mad Men", "Homeland") as the office cleaning lady named Maria.  It was a very nice scene. I had 3 callbacks. The producers liked me, and I was cast even though the part called for a much older woman. My first big break! I felt extremely confidant to do more, and because I was cast over someone who was more the "type", it encouraged me to continue. From there, I was getting cast in all sorts of roles, and then moved into voiceover as well.  
O.F.F.: When acting, do you prefer more physically driven characters or emotionally driven characters and why?
I.S.: No preference. I do have a preference to work, though. I am a working actor, and I am happy for the job. I am always honored and feel truly blessed when I am cast. For me, it is all about doing my best in every situation, for every project.
O.F.F.: Has there been a certain character (or characters) to date you've enjoyed playing in particular and why? I see from your credits you like some diversity!
I.S.: I have to choose? This is a tough one. It's like choosing which kid I love best. I have played a plethora of amazing characters. I do have to say, I think some of my best work was when I played Edith Cartwright for my role in "Providence". It was an extremely physical and challenging character, very different from what I had ever been cast in before.  Although, I have to say I really love doing comedy, as that's my background as a singing telegram.  In, "Where Are You, Bobby Browning?" coming out this year, I play this catty politician's wife. It was a really funny scene.  I was so happy the director, Marc Hutchins, let me play around with this character.  I like playing villains as well. Who doesn't love a good villain?  I would actually like to do more villains in the future.
O.F.F.: What have the experiences been like in TV roles vs. film roles? Similar? Completely different?
I.S.: I have had good and bad experiences! I have worked on micro budget projects as well as mega budgets. I always get that little flutter of excitement in my tummy when I walk on set, no matter the budget of the film. I have had memorable experiences as cast and crew, as well as a producer-good or bad. Each time is a little different.  
But there is always that level of stress when the weeks wear on.  TV is very fast paced because you have a week to make one episode come together, then you are on to the next episode. Everything has to be spot on–wardrobe, lines, and so on. Film is pretty much the same, but there is a little more time. Not too much more, as time is always money.
The bottom line is: how good is the craft services experience?
O.F.F.: Your bio also indicates an accomplished voiceover element included in your resume. Can you expand a little on those experiences?
I.S.: I love, love, love doing voice overs!!! I get hired to read copy in English and Spanish for animation, commercials, narration, or the operator that tells you your call did not go through. Chances are you have heard my voice, especially if you needed "…to try your call again". I have been hired by Avon, Subway Sandwiches, and so many other companies.  When I was a kid, I was always pretending to be the announcer. I always knew I wanted to get paid for it, but didn't know how.  Once, I got hired to do the voice of Joan Rivers for this commercial.  It always made people laugh, so I put that voice on my mom's answering machine. People would call up just to listen to the message. They didn't really want to talk to my mom. To me, it's not work it's play!
O.F.F.: So, onto your current project, "Providence", set for limited theatrical release Valentine's Day 2016. What drew you to this film and/or how did the opportunity come about?
I.S.: I saw it online, so I submitted myself and my 9-yr. old daughter, because I saw they were looking for a mother and daughter role. What really drew me to it was the potential for strong female roles, as it had the 2 mothers, Edith and Penny, and then I submitted my daughter for the young Rachel role.   I had no expectations really of hearing back.  Then, I get this email about a month later from the director, Sharon Wilharm, asking me to audition for Penny, who is Mitchell's mom. So I prepare all this great stuff for Penny, but then a few days later I get another email from Sharon asking me to audition for Edith instead, who is a totally different demographic. I didn't want to throw the prep work away I did for Penny, so I auditioned for them both. I was really impressed with Sharon's email asking me to audition for another character. I loved that she took a chance on me. I had been looking for a role like this for a long time. This is a 'Bucket List' role for me.
O.F.F.: Tell us a bit about the character, Edith, you play in it.
I.S.: Sharon explained her to me as "A force to be reckoned with". Edith is a beautiful, independent, educated, business woman always in control.    First, she is all about business. Second, appearances matter a great deal. Then third, motherhood/marriage/family.  As Rachel and Edith become older, you see a strained relationship. She loves her family in her way.
O.F.F.: What kind of a challenge was it to play a character who ages 40 years in the space of one film?
I.S.: It was a welcome challenge! I prepared a great deal for this. It was physically demanding in some areas. I made the commitment to physically and mentally be ready. I did not want to rely on makeup alone, although Jennifer Whitus did a great job on me for our small budget.  I wanted the audience to clearly believe this is Edith in three different stages of her life: young mom in her 30's all the way to her 70's as a frail, picture of herself after she suffers a stroke.  One particular thing I did to prepare was to not use my dominant side. I am left handed, so I made it a point to practice using my right side for everything. 
O.F.F.: There is the wonderful, faith-based message to be found in this story.  How did that element of things influence you, if at all, while filming and playing your character?
I.S.: That is a good question, Kirk. It was a personal journey for me to continue to ask for prayers of conviction and meditate on this to play the role. It was important for me to remain in character during filming because I wanted to have a realistic connection with my co-stars, especially Juli Tapken–who plays Rachel, my daughter, as an adult–with such honesty. I felt it was important that I did not pretend with her. We had some very difficult, raw scenes and brilliant, unscripted tender moments that I feel were possible because of the connection with the Holy Spirit that gave me courage.
O.F.F.: How was the experience working with fellow actors Juli Tapken, Rich Swingle, Stacey Bradshaw, and Josh Allen?
I.S.: It's funny because I never worked with Stacey or Josh. I did work with little Emily Knapp who plays the youngest Rachel. She and her mother were very sweet. Emily is a doll. She did great for her young age.  In fact, I arrived when Stacy was leaving, and I never even met Josh. I met Stacey on another set I was working on in Virginia. She came to the set a couple of times because she was friends with a lot of the crew. Because of scheduling, they shot her scenes separate from mine. Working with Juli and Rich was a lot of fun, and they are true professionals. One night, Sharon, Fred (Wilharm), and I saw Rich's one man show. It was incredibly entertaining.  We all keep in touch today. I would work with them again. 
O.F.F.: Additionally, what was it like being directed by Sharon Wilharm?
I.S.: Sharon is a wonderful director. She is so easy to work with and let me explore different possibilities with my character and with the scenes. It is good to work with someone who has a clear vision of what she wants. Through the whole process she was very hands on with the wardrobe; color pallets – everything -in a good way. She was very accessible to her cast and crew. I was amazed how she always was up on the communication end of it.  She even cooked for us! We still keep in touch and are great friends.  
O.F.F.: What other projects are on the horizon for you at this juncture?
I.S.: I am focusing on a good year. I have 2 films due this year, both in post-production. In "Assasinault", I play another dream role – The President of Earth. This is a sci-fi movie! I had a blast filming it. The other film is a romantic comedy, "Where Are You, Bobby Browning?". I play, Nancy Hogan, a catty, self- centered politician's wife.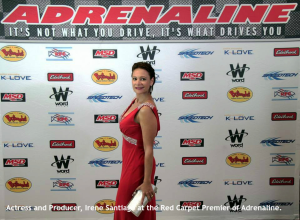 Recently, I just came back from Rio de Janeiro, Brazil to help promote the film "Adrenaline". It was nominated for best foreign film at the Festival Nacional de Cinema Cristão. In addition to acting in this film via a supporting role, I'm also a Co-Executive Producer. It was released in Sept. 2015 in the States, then in Brazil Dec. 8, 2015. We are looking for it to being released in the UK and Australia soon. You may also see my face on commercials.  Additionally, we are looking forward to the release of my youngest child's new film, "The Terrible Two ", coming out sometime this year. It is in post right now. This is her 1st feature. We are so proud of her. She is one of the "terrible two".
O.F.F.: Another aspect of your current career that struck me when reading your bio was that you take the time to teach at risk children as well as also giving time to the Sundance Institute Filmmaker's Lab.  Describe some of those experiences for us.
I.S.: Working with at risk kids is so rewarding. Most of these kids are from a poor, rural demographic. Maybe one of their parents is raising them, usually it is their grandparents, so many of the kids I come in contact with are told they will never be good enough, and that they are nothing. Usually, the future career choices are sports – namely football, or farming — not that there is anything wrong with that, I respect that. However, that being said, not everyone is cut out for that–girls usually get pregnant, and gangs are a tempting alternative for either gender. The dropout rate is high. For most of these kids, their reading and writing skills are pretty poor.
The organization I partner with, Rose Hill Friends of the Arts, wants to change that. What I do is to teach them presentation skills, using acting and improv, as a better way to get them more prepared for the workforce being who they are, not pretending to be somebody else. I tell and show these kids, "the magic is within them" and discover their passions. I show them they have so much more than what they were led to believe, but they must believe in themselves.  They collaborate in small groups, producing their own works, and then show their product.  It is thrilling to see what these kids can do if you give them an opportunity.
I usually leave them with this, the rule of the 4 W's:
SOME WILL: Some people will like you. Maybe even love you! They can't wait to hire you.

SOME WON'T: Some won't be interested in you or return your phone calls, emails, whatever.

SO WHAT?! Because ….

SOMEONE IS WAITING! That's right! Someone is waiting for you to be their answer.
Some kids still keep in contact with me and let me know what they are working on or what's going on in college. I am so proud of these kids, and I usually feel they teach me so much more that what I teach them.
Earlier I mentioned my mentors and the influences they had on me. I had a charmed, exclusive opportunity working with some distinguished talent at Sundance. I also was asked to be a part of the Theater Lab one year. It is the Who's Who of the film industry from one spectrum to the other.  I never felt star struck, because everyone is there to work. We were all colleagues, and respected one another.  The words, "I am so blessed to be here!" was said and felt by cast and crew chosen to be there, and these are people with names!  It was surreal to spot Glen Close and Denzel Washington walking together & talking. We all had meals together, we saw each other every day.
I remember one particular year, Sally Field and Robert Redford came by our set to see our progress of the scene and give notes. I remember S.F. wanted me to trip up the other actress, to throw her off so she wasn't so rehearsed. She had me scare the poor actress to death! I just remember they were laughing off stage because this actress totally freaked! They, (S.F. & R.R.), were giggling like little kids! It was crazy!  That is just how it was. I was devastated to hear when one of my mentors there, Phillip Seymour Hoffman, had died. The night they announced it, I had a sick pit in my stomach. My heart just sank, and I cried for his family. He was such an important mentor to me. I learned from the best.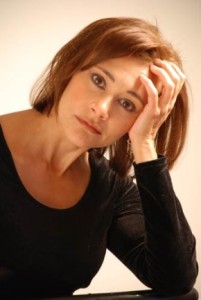 O.F.F.: As independent film tends to, sadly, be a medium that often doesn't get the kind of acknowledgement it deserves, whether theatrically or via other distribution channels like film festivals, how important is it to you that indie cinema get a bigger push via promotion and support, as it seems, to me anyway, it is a last bastion of deeper storytelling, characters, and a passion behind the making of them that seems too often get lost in mainstream efforts.
I.S.: It is very important for change. Slowly, more opportunity to support indie films are coming about. Indie films should not just be seen, but have an opportunity to make our money back. There are no guarantees in this business, even for a blockbuster with a mega budget, to have a hit. I can only speak from personal experience due to the push to get our film, "Adrenaline", going and getting it recognized. It is so expensive! I don't think people realize it. The pressure to get your film distributed, marketed, and hopefully a theatrical release is intense.
Every penny counts on a small indie film, and many indie filmmakers are doing the promoting themselves. There is not a big budget team of strategists until you get distribution, and even then that is no guarantee your work will be seen or purchased. What it comes down to is the mighty dollar –it does not matter how good your film or story is.  If the audience is not buying a ticket or tuning in for ratings, then a theater or network will not keep you for long.
Big theaters and networks can help with more programs like the Sundance Channel, AMC Theaters' Indie Film program, Tugg.com, and Brown Bag tickets to name a few options. These are good opportunities, and I hope larger theaters follow suit.
O.F.F.: The standard final question for my interviews, and many other before me without doubt—what is YOUR favorite film of all time and why?
I.S.: I have to say "The Usual Suspects"! It was the most brilliant ever! The writing was amazing! The cast blew my mind. Every individual actor brought it! I believed every word that came out of their mouths. I was so taken by this film. This was the first time I had ever seen Kevin Spacey. This was an incredibly clever film.  I was in suspense from the get go. ""Who is Keyser Soze?" Gotta love it!
Got to love it indeed!  And I can say without question that Irene has more than established her credentials in the indie and major film arenas while also showing the dedication and heart not just to her own goals, but to the accomplishments and future of those she chooses to help along the way! And that now includes yours truly in doing this interview. So, how about some ways to keep up with what Irene is doing these days and beyond:
"Follow" Irene on Twitter: Here
"Like" Irene's Facebook Page: Here
Subscribe to Irene's YouTube Channel: Here
"Like" "Providence" on Facebook: Here
"Follow" Providence on Twitter: Here
Well, I extend my usual, but very genuine, heartfelt "Thank You!!" to Irene Santiago for taking the time to provide the wonderfully insightful and in-depth responses to my questions for this interview! Keep watching this coming February for "Providence" in addition to several of the other films Irene commented about above that she will be involved in! Until next time, thank you for reading and keep helping to support independent cinema!