I am shaking things up a bit here at OneFilmFan.com, at least for this particular opportunity that I have pursued and have begun to see the fruits of, by venturing into the independent television world for a series of short, 4-question, to the point, and insightful "snapshot" interviews with members of SundanceTV's hit series and ground-breaking character drama, "Rectify". Telling the powerfully emotional, deeply intense, and unapologetically human tale of death row inmate Daniel Holden and his last minute release from incarceration for a murder 20 years ago. The unfolding journey of how his re-introduction into society, returning to his home town, his family, and a new investigation into the events 2 decades prior, affects everyone around him past and present has been nothing short of boundary-breaking for the two and a half seasons now the show has been on.  So to begin THIS journey about how a brilliant cast feels about their involvement in this highly evolved sh0w, we come to the patriarch character of the narrative, Ted Talbot, Sr., via the actor who plays him, Mr. Bruce McKinnon.
OneFilmFan: First off, a question I am asking each member of the cast. What was it that drew you to this show and/or how did the final opportunity present itself to become part of it?
Bruce McKinnon: Even when actors are working, we are usually looking for the next job, so my radar was already up for possible gigs when "Rectify" popped up. When my agent sent me the script, I soon realized this wasn't just another run of the mill project–this one was special. Not only was the writing and story wonderfully unique and being made for the cool SundanceTV–it also had, to my delight, my old friend Ray McKinnon as its creator. What a combo! I immediately threw my hat in the ring which required several auditions including self taped and in person. I happened to be at my place in Tennessee during this time, so I drove down to Griffin, Ga (where we film "Rectify") for the final audition. Within a couple of hours after my turn, I found myself at a table read for the first 2 episodes because I had been cast as Ted Sr…which is where I met the rest of our wonderful regular cast for the first time. This was on a Friday and we started filming the first season on the following Monday.
O.F.F.: Your character, Ted Talbot, Sr., is the ultimate patriarch of a family thrown into a state of subtle, and sometimes NOT so subtle, turmoil with the release and subsequent return of son Daniel. Throughout this time, Ted, Sr. has been this quiet storm in the background, trying to support his wife and her treatment of Daniel's coming home, but also ultimately stuck with a secret that was only revealed this season involving Ted. I love that you play the character in an almost understated way, yet there's authority behind the calm exterior. How has it been to play this commanding but ultimately gentle soul who's just trying to look out for his family's well-being?
B.McK.: Though Ted Sr, at first glance, seems like a fairly simple role to play–he is in fact an extremely complicated character. So many different subtle layers to discover, digest, and personalize. Clues that normally an actor looks for in scripts to liberate their parts were initially hard for me to mine in the first few episodes in order for me to do justice to this deep, sensitive man. With various techniques I learned years ago in acting school from my teachers Sanford Meisner and Phil Gushee at The Neighborhood Playhouse, as well as Ray McKinnon's invaluable insight, all of our director's guidance and "Rectify's" wonderful writer's way with words–I was able to get a handle on this mysterious, slippery and "strong silent type". Tough character to flesh out, amazing person to portray.
O.F.F.: Through almost 2 ½ seasons now, you've had the amazing chance to work under the guidance of creator/writer/producer Ray McKinnon. What has it been like to work with him and a stellar cast on this, honestly, visionary show?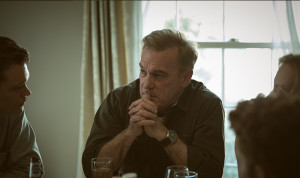 B.McK.: To have such a great (and I don't use that word often) storyteller as Ray involved and such gifted and talented actors playing every single role in "Rectify", this project has been this actor's dream come true. We are an ensemble in the truest sense of the word and all have enormous trust, love, and respect for each other. I'm afraid I've become so spoiled being a part of "Rectify", all future projects will have me wanting. The bar has been set pretty high on this one.
O.F.F.: To finalize these thoughts, what message would you like to say to existing fans of the show and then, secondly, to those who have yet to have tried it out?
B.McK.: To existing fans, thank you all! Your involvement with "Rectify" has been a joy to see. It's like you are the wind in the sails of our sweet little ship called "Rectify"–continuing on our voyage together no matter how dangerous and turbulent things get.
To those who've yet to watch, please give "Rectify" a chance to become part of your TV life. But be warned, "Rectify" is like a great book that will take you on a journey like nothing else you've ever read. Start at the beginning, like you would a novel, with the first season and watch at least 3 episodes to find if it's for you. It may not be–it's only for cool people.
So, by Bruce's own request, fans-stay the course and know that YOU and YOUR ongoing support of this incredible drama  is greatly appreciated! And to those reading who have yet to get on board the "Rectify" ship, truly do your self a favor and catch Seasons 1 & 2, currently on
Netflix
, or through
Amazon Streaming Video
and other online outlets and on DVD. As Bruce also indicated, give the show the chance to get its hooks in you when starting out, and I know this reviewer feels you will have the same experience and draw from it that now has me watching the current Season 3 in real time! And fans are already rejoicing with the announcement earlier this year about the show's renewal for Season 4!
Want to stay up to date with Bruce McKinnon and the show?  How about utilizing these options:
"Follow" Bruce McKinnon on Twitter:
here
"Follow" the show on Twitter:
here
"Like" the show's Facebook Page:
here
Check out the show's website:
here
As always, I extend a truly heartfelt "Thank you!!" to Bruce McKinnon for his willingness to do this brief interview about the show, his character, the cast and creator, and to give props to the fans that make the show the ultimate success that it is!  Stay tuned as I see who else from this amazing group of actors takes part in this effort to help promote one of THE preeminent series on TV.  Sundance Channel, Thursdays, 10pm.  BE THERE, folks! Until next time, thank you for reading!