Hello, readers, as OneFilmFan.com welcomes you back (or for the first time, perhaps?) with open arms and invites you to rest a spell and enjoy the newest edition of the site's existing interview platform, "In Their Own Words". As the road through the independent film arena continues to wind and twist, engaging different genres, film styles, and the personalities behind them, we come upon the faith-based realm of indie through writer and director Sharon Wilharm of Faith Flix Films and Mainstreet Productions out of TN.
On the cusp of debuting her newest directorial effort with the uniquely written, dialogue-free effort, "Providence", Sharon was able to take some time to share about that project, the unexpected path to film and how she considers it her personal ministry, and the message of Christian faith behind all her films and the importance of having an impact on everyone who views them. Without any further introduction, I present my interview with Sharon Wilharm!
One Film Fan: With a childhood beginning in the Southeast, Destin, Florida to be precise. Give us a general picture of growing up and what first lead to your interest in film.
Sharon Wilharm: When I was growing up, Destin was a close knit fishing village where everyone knew everyone else. I loved that small town atmosphere and manage to incorporate that love of small towns in most of my films.
In sixth grade I got my first leading role in a school play. I don't remember much about the play other than I wore overalls and one of my lines was, "he's worse than a leaky barrel in a rainstorm". I loved being a character actor. I figured I would take part  in community theater as an adult, but never in my wildest dreams would I have ever imagined that film would be a part of my future.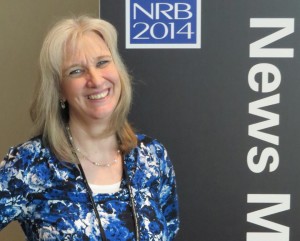 O.F.F.: How did you further learn the trade (ie: mentors, influences, and schooling)?
S.W.: Throughout my school and young adult years I was very involved in theater and church drama. I directed a children's choir when I was still in high school and discovered that I enjoyed being behind the scenes as much as in front of everyone. I graduated with a degree in education and married a man with a degree in communications. We soon found ourselves pooling our talents and working together on video projects and ultimately feature films.
Once we realized that this was where God was leading us, we tried to learn everything we could about the art and business of filmmaking. I have an entire bookcase dedicated to film books, we have many volumes of educational videos, and we've attended every conference, workshop, and seminar we can.
O.F.F.: Your bio indicates you got into teaching drama and filmmaking to elementary, middle, and high school students, with awards being won at state and regional competitions. Tell us a little about how that shaped your journey.
S.W.: We homeschooled (daughter) Brittany from preschool to graduation. Rather than following a strict school at home curriculum, we went with a customized education that included lots of hands on experience with film. As she got older and we joined homeschool groups and tutorials, I started teaching other homeschool students.
I encouraged my students to enter contests such as National History Day and Full Moon Film Festival where their creative efforts resulted in local and national recognition, even cash prizes. It's great to see some of those students still using what they learned to pursue careers in film.
O.F.F.: Now, it also indicates that along with your husband, Fred Wilharm, you made a first effort at feature filmmaking in 1999. Can you expand a bit on that experience?
S.W.: We moved to a historic small town and Fred wanted to make a documentary about the local houses and sites. Somehow or other, that turned into a faith-based feature film with me writing the script, directing, and playing the lead role. Fortunately, we've come a long way and learned a lot since that first attempt.
O.F.F.: The films you've done to date, including "The Class of '91", "Flowers For Fannie", "The Good Book", and the soon to be released "Providence", have the common thread of being faith-based efforts, correct? How did that particular genre path come about?
S.W.: Honestly, I wouldn't begin to know how to do anything but a faith-based film. I have such a strong Christian worldview that it would be impossible to keep it out of my stories. Making a movie is such an ambitious project that consumes your life for a year or more, and if I'm going to put that much work into something, I want to make sure it impacts lives and makes a difference. I consider film to be my personal ministry.
O.F.F.: Have you found that being the writer/director on these features is enough of a task while Fred handles the producing, editing, and filming itself? Or through working together on these projects, have you potentially wanted to delve into those other elements yourself at some point?
S.W.: In our earlier movie projects, we had lots of conflict trying to determine who was doing what. We've learned, though, to let each do what we do best. We've learned out to bring out the best in each other rather than competing with each other. My strengths are writing, organizing, scheduling, and communicating. I'm passionate about wardrobe and color. I'm more artsy.
Fred is the technical one. He loves all the equipment and getting everything technically correct. We've learned to appreciate each other's strengths and listen to each other so that we are both on the same page. It's funny because actors are amazed at how smoothly we work together, but it's been a definite evolution that came after much trial and error.
O.F.F.: I also see you've won several awards at multiple film festivals to date. That has to be a gratifying feeling to know the work you've put into any given project is acknowledged in such a way. Thoughts on that?
S.W.: We knew that making a silent movie was a risky endeavor, and so we made the choice to submit "The Good Book" to film festivals to validate the movie to people who might be nervous about something new. At first, no one knew what to think about it. But then it started getting into a few festivals, and before we knew what was happening, it became a festival darling. It definitely changed the way people looked at the movie. When we first went to film festivals, we were the underdogs, but as our movie made the rounds, it was interesting to see how people treated us differently knowing that we'd won other festivals.
O.F.F.: So, onto your current project, "Providence", coming out theatrically for Valentine's Day 2016. What inspired you to write this film?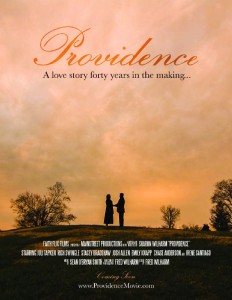 S.W.: We had the idea for "Providence" a number of years ago while we were traveling. The idea was what if there was this couple who were supposed to be together, but one or the other kept not doing what they were supposed to be doing. So God kept bringing them together, but they kept not cooperating. We discussed it for awhile then decided it was way to complicated and would never work. It wasn't until we decided to do another silent movie that the story evolved into the idea we'd had years ago.
The inspiration for Rachel's grandmother came from a friend of mine who had a godly grandmother whose spiritual heritage influenced her life even after her death. I love doing stories with interconnecting lives and showing the impact that relatively minor events can have on our future.
O.F.F.: Tell us a little about the story itself, spoiler free, of course!
S.W.: "Providence" is the story of Rachel Cartwright and Mitchell Little who grow up together. Their lives keep intersecting, but it takes forty years before their friendship finally blossoms into a romance. I see Mitchell's character as a Christ figure who is waiting patiently for his bride.
The story started off a little more linear, but in the middle of filming, a comment by Rich Swingle led us to do some rewriting and adding a twist at the beginning. It made things more complicated, but ultimately we all agreed it really stepped it up several notches.
O.F.F.: One of the most unique aspects of this effort is the fact there is no dialogue—at all and therefore dramatic acting and the music have to carry the film. What prompted you to write it as such?
S.W.: When we were in the initial planning stages of "The Good Book", we were talking about how to avoid cheesy dialogue and how we could show not tell. That's when we decided to take it literally. Our experience with music videos and interpretive drama made it pretty easy to write a dialogue free script. Filming was quite an adventure because we were trailblazing and learning on the job. We fell in love with the freedom of not having to worry about memorizing lines and audio issues. The actors soon found that they could be more real and raw when they could focus on the emotions and not have to worry about lines.
We didn't think it would be possible to write two silent movies, but after I started writing "Providence", I realized it could work just as well. Not everyone gets a silent movie. It requires that you pay attention as it depends on subtleties that can easily be overlooked if you're distracted. But for those who are willing to focus, there are multiple layers to get out of the movie.
O.F.F.: As a follow up to that, do you feel the film's faith-based message is delivered in a stronger way via the format you chose?
S.W.: Without dialogue, the movies are able to speak to people in a very personal way. Each person interprets the scenes and hears in their mind dialogue that makes sense to them. We've had people get such completely different interpretations than what we intended, but that's cool. God gives each person the message that they need to hear.
O.F.F.: How was it working with a wonderful cast that includes Irene Santiago, Rich Swingle, Juli Tapken, Stacey Bradshaw, and Josh Allen? Easy to direct, I hope!
S.W.: We were blessed with the most amazing cast. Originally, we had intended to have primarily local actors like our previous movies. But we started getting submissions from all over from all these actors we'd heard of but never imagined would be interested in being in our little silent movie. The caliber of talent was mind boggling. From the leads on down to the tiniest of roles, each and every actor was extremely professional and brought the highest level of skill to each and every role in the movie.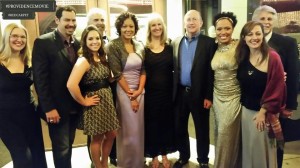 O.F.F.: What other projects are on the horizon for you and Fred at this juncture?
S.W.: I've already written our next script, "Bonnie and Claude", and it's completely different than anything we've done yet. After becoming known as the filmmakers who make silent movies, we'll be doing a talkie. It's a period movie that takes place in the thirties, so I'm looking forward to the fun period costumes and sets, and Fred's eager to line up period vehicles. We hope to start filming fall 2016.
O.F.F.: You and Fred currently run Mainstreet Productions, which is the company behind your feature films. Tell us a little about what is involved with that aspect of your career.
S.W.: Mainstreet Productions is really more Fred than me. In addition to our films, he does music videos and commercial video projects for clients. He also shoots several music industry talk shows.
O.F.F.: Independent film, in my experiences especially over the last 12-14 months, has shown itself to truly be a last bastion of deep storytelling, more human characters, and a sincerity of passion behind them from the filmmakers, actors, and others associated with the often limited distribution and promotion, if any at all, they garner. How important is it to you to see independent cinema get a bigger day in the sun and for these heartfelt efforts to get recognized on a larger scale by moviegoers?
S.W.: The average person has no idea the wide selection of indie movies available to enjoy. They only know about the big studio movies that release to theaters or TV. My goal with Faith Flix is to help spread the word about the amazing indie faith-based films being made. The quality of the newer movies is many notches above what it was just a few years ago. I would love for the general public to become aware of some of the gems coming from independent filmmakers.
O.F.F.: As is a traditional question to be asked at the end of my interviews, why change here? What is YOUR favorite film of all time and why?
S.W.: "It's a Wonderful Life". I can watch it over and over without it ever getting old.
And is that not what the beauty of a perfectly made film, classic to contemporary, should be like? As Sharon stated above, the independent film world is so overtly rich in talented writers, directors, producers, actors, and crew members, that it often seems like a shame the greater filmgoing population is unaware of its existence outside those projects that happen to get a bigger distributor behind them, allowing for some limited theatrical release.
Therefore, indie fans, it is up to us to be a part of promoting what's out there and ideally helping to draw more and more people into a greater realm of enjoyment via film. Add to this notion Sharon's comment about desiring to see films actually impact viewers deeply, through positive, faith-centered messages and content, and there's a recipe to make a mark in the film world, as she and her husband Fred are successfully accomplishing!
Want to stay attuned to the going's on at Faith Flix, Mainstreet Productions, the "Providence" film, and the Wilharms?  Check out these ways to do just that:
"Follow" "Providence" on Twitter: here
"Follow" Faith Flix Films on Twitter: here
"Like" "Providence" on Facebook: here
"Like" Faith Flix on Facebook: here
Check out Faith Flix Films and Mainstreet Productions websites: here & here
Sharon and Fred Wilharm on Faceb0ook: here & here
And so with a huge, heartfelt "THANK YOU!!" to Sharon Wilharm for providing some wonderful insight into her indie film life, I share another "THANK YOU!!" to all my readers, new and old!  The ongoing support for what is being presented at OneFilmFan.com and its contributing impact on the indie film world is humbly appreciated and only serves to drive me further onward to keep indie film in the spotlight!  Until next time, spread the word and God bless!