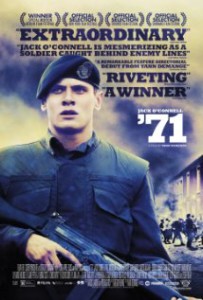 WATCH THE TRAILER HERE
Primarily known for his directorial work in TV and short films, Yann Demange takes a stab at a full length independent feature film with "'71", and in doing so, spins a tale of young British solider Gary Hook ("Unbroken" star Jack O'Connell), whose very first detail out of training is to accompany a unit of fellow soldiers in policing a house raid on the streets of strife-ridden Belfast, Northern Ireland circa 1971. What starts as mild crowd control soon turns into full scale rioting, and ultimately Hook finds himself separated from his unit and left behind in hostile territory, alone and unsure of how escape back to safety.  As the night falls, Hook embarks on a harrowing journey to find his way home, while members of the newly forming, younger, and highly militant faction of the IRA hunts him relentlessly.  Trying to find anyone who he could remotely consider an ally, Hook works his way around Belfast, finding temporary solace with a group of local, anti-IRA militia as well as a father and his daughter, who know the risks in taking him in.  Added to this is the realization that even some ranking British policemen who are pursuing him may have their own agendas in regard to the issue of Hook's presence in the city and how it affects their corrupt dealings.  Hardly able to rest, Hook takes on a seemingly impossible road to freedom amidst the growing chaos around him, where knowing who and who not to trust will be tested and take him to his limits.
The film is a triumph in presenting its very tension-filled, dark, and sobering look at the political and social atmosphere of Belfast through the eyes of one lone solider caught in the initial, traumatic encounter that sets up his plight, that then unfolds in a series of close calls, reluctant friendships, and the total violence perpetrated by the IRA, both internally and externally.  Yet, there are those moments where we also see the sad reality of some who are simply caught up in the discord via the wrong ideals being instilled in them, hesitant participants in an escalating war that brings some heartbreaking moments for Hook as he traverses the single night's nerve-wracking events.  O'Connell, fresh off playing another character in mind-numbing distress, infuses Hook with an honest sense of total fear, moments of panic and hopelessness, times of utter courage and determination, as well as the confusion of trying to definitively grasp the scope of the war he is now witnessing first hand.  Strong supporting players contribute well to the tangible air of discord  the incident is causing on all involved in trying to retrieve or eliminate Hook, and the stark cinematography of a Belfast night filled with turmoil brings it all together.  The film, with its harshness in language and violence may tax some viewers, but overall, this is one substantial effort to show not just one man's struggle, but a country's.
As always, this is all for your consideration and comment.  Until next time, thank you for reading!