Good evening (or afternoon, or morning…please apply according to the place you live NOW) readers!  As the wonderful world of my normal job schedule has since changed, these "Spotlight" posts will be most likely arriving at different times during the weeks now, as is evidenced by THIS one!  But, this shall NOT take away from the actors and actresses I intend to continue highlighting as I push forward with this Blog adventure/experiment.  So, that said, tonight I would like to get to another of the young, but seasoned, actresses whom I've admired for much of her career in TWO mediums…film AND music.  And therefore I give you….Emmy Rossum.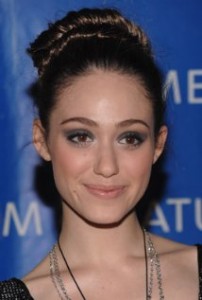 Starting out in acting at a young age, as many of these amazing young talents do, Emmy was mainly on the TV circuit between 1997 and 2001 (mind you, this is from age 11-15!  Yeah…I don't feel TOO old!), with appearances on such shows as "As The World Turns", "Law & Order", "Snoops", and "The Practice" along with a mini-series in 1998's "A Will of Their Own".  Also along this path were several TV movies, including 1998's  "Only Love" and "Grace & Glorie", 1999's "Genius", and in 2000, the chance to play an American icon, the younger Audrey Hepburn in "The Audrey Hepburn Story".  However, intermixed with all of THOSE projects were several theatrical films that were really the spots that got Ms. Rossum noticed….2000's "Songcatcher" and 2003's "Nola", as both were not just further opportunities to show her acting abilities, but also her singing attributes as well. 2003 also brought about her turn in the Clint Eastwood-directed classic, "Mystic River", where she would meet and work with veteran actor Sean Penn and gain some helpful advice about being picky as to the roles she would take in the future.
Now, as usual, I am not purposely just breezing through Emmy's initial career, but rather want to simply dive into the time when I first became familiar with her talent, which would be in the 2004 Roland Emmerich-directed Summer epic, "The Day After Tomorrow", in which she got to co-star with Dennis Quaid, Jake Gyllenhaal, Dash Mihok, and Sela Ward.  Playing Laura Chapman, a friend and crush of Sam (Gyllenhaal), who along with others get stuck in New York after a series of radical climate change events causes the dawn of a new Ice Age, I must say it was Rossum's bright smile and down-to-earth portrayal of the character that really did stick out to me in the film.  This is saying something when so often, these types of films are more about the special effects and destruction, leaving character development in its wake.  But, I felt Rossum just brought that right level of depth to this story to make me take notice. However, the REAL "ok…I am TOTALLY in love" moment came with 2004's movie adaption of one of my favorite musicals EVER, "The Phantom of the Opera", directed by Joel Schumacher and co-starring Gerard Butler, Patrick Wilson, Minnie Driver, and Ciaran Hinds just to name a few!  Rossum's Christine was absolutely flawless to me.  Every nuance of the stage version was brought to such lush, vivid life, and then I find out Rossum can REALLY, REALLY sing!!  Double threat!!!  Again…what stood out was the passion and depth she gave to the character, and with full film sets to make the world of the Phantom even more larger than life than on stage (which is ALSO saying something if you've ever seen that version!), it was just an incredible performance to see and hear Rossum OWN the role and play so well off of Butler, who incidentally, did incredible himself to play that part! But Rossum radiated a classic beauty in Christine that blew my mind, and I am VERY critical of film versions of musicals, as the stage versions usually capture the emotion for me more live than on screen (not poo-pooing the classic films, just saying)….but Emmy's voice and emotional rawness in this film had me captured from the start.  After coming down off the musical and fantastical mountaintop I had ascended every time I watched the film, 2006 saw Rossum return to another Summer disaster film, this time directed by Wolfgang Petersen, in "Poseidon", a re-make of the 1972 Gene Hackman-starring "The Poseidon Adventure".  Along with co-stars Kurt Russell, Josh Lucas, and Richard Dreyfuss, , Emmy played Jennifer Ramsey, the daughter of passenger Robert Ramsey (Russell), aboard a massive cruise ship on New Years Eve that has a rather bad situation occur…a rogue wave capsizes the liner in the middle of the North Atlantic Ocean.  And so ensues a battle for survival among those remaining after the wave crushes the ship. Now again, this is a film that is relying heavily on the effects of the wave and the craziness of the disaster itself, but I still felt for the material given, Rossum made the most of it and played the role with believability, which is always a key factor for me when watching an actor's performance, regardless of what style of movie it is.  I won't say this role had the same impact on me as "Phantom" or even "Tomorrow", but she makes it work.  Three years later, in 2009, Rossum ventured into some newer and decidedly different territory in taking on the role of video game action heroine Bulma in the live-action adaption of "Dragonball: Evolution".  Now I have to say that I never actually saw the whole film to date, not because I can say it was or was not good, but moreso due to always tending to be leery about video games translated to film.  Of the parts I DID see, I will state that seeing Rossum kicking butt was quite awesome, and a refreshing change that I felt showed further diversity in films she could be successful with.  And I believe she was simply having FUN!!  2009 also brought about another film of Emmy's that I did not catch, which was "Dare", a smaller drama centered on 3 high school seniors who find themselves embroiled in a tangled relationship.  I would have NO doubts that Rossum would bring to bear her dramatic chops to this role, and execute them perfectly.  The most recent film role I HAVE caught and LOVED was in 2013's young-adult fantasy film, "Beautiful Creatures", based on the novel series, where she got to let the inner vamp out a bit to play in portraying Ridley Duchannes, the estranged and cast out sister of the film's lead character, who decides it's time to come home and raise some trouble for her younger sibling who herself is on the verge of making a choice that will impact her life and love forever.  It was straight forward and even in the little amount of overall screen time Rossum had in this role, she completely chewed up scenery as Ridley, being able to play both victim and vixen to a "T".  Just great entertainment and another part that I have to believe Emmy relished playing.  For the past 3 years, in the midst of films, Emmy has excelled back in the world of TV in the form of the Showtime original series, "Shameless", co-starring the impeccable William H. Macy, garnering rave reviews as Fiona Gallagher, the eldest daughter of alcoholic father Frank (Macy), who does her best to cope with the trials and tribulations of her OWN life all while trying to be the "mother" to her younger siblings and all the other drama that their father's choices bring and have brought.  This is a truly meaty role that Rossum has taken on and it really brought her dramatic acting to a WHOLE different level, which again, I was very glad to see.  It's a mature role and I feel will be the launching point to many, many other projects acting-wise for Emmy, whose name I hope will paired with "Oscar!" one day, as she has the ability to warrant it.  Upcoming projects include "You're Not You" and "Comet".
As a separate note, so as not to be excluded from this Spotlight, Emmy also has a showcase for her BEAUTIFUL voice in the form of several solo CD's she has released over the years. And I AM talking an AMAZING voice, considering Rossum was on stage at The Met singing with Placido Domingo and Luciano Pavarotti at age 7!!!!!  So, respect that people!!  Her 2007 debut pop CD, "Inside Out" was just a tour de force of both her ethereal vocal stylings and layering, but also SO raw in the emotion and subjects she wrote and sang about.  I am ALWAYS caught up in this recording when I listen to it, as you just FELT how personal it was for her, that she was letting go and letting OUT things that had resided inside her for a long time.  To this day, the song "High" on that recording remains one of the best odes to longing for someone I have heard.  Later in 2007, she released a Christmas EP, "Carol of the Bells" and leant her gorgeous and smooth voice to several classic holiday tunes.  Most recently in January 2013, Rossum gave us "Sentimental Journey", a wonderful and well orchestrated set of cover tunes ranging from the 20's to the 60's.  Again…a master class in beautiful textures and classic style that the standards she performs warrant.  I find it amazing that she has so much to offer musically and stylistically that I wish she could keep recording an album every year AND act as well!  Music that is worth checking out, folks.
As always, this is all for YOUR consideration and comment.  Until next time, thank you for reading!